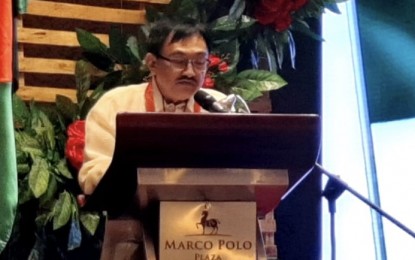 CEBU CITY – Newly installed Honorary Consul General Virgilio Espeleta of the Consulate Office of the People's Republic of Bangladesh here has expressed plans to boost the relations between the Visayas and the South Asian country.
"There are a lot of opportunities in Bangladesh and the most interesting is really to develop these trade relations, specifically the areas of Visayas and Bangladesh," Espeleta said on Wednesday, following his installment as an honorary consul general.
The Consulate General Office of the People's Republic of Bangladesh officially opened on Wednesday afternoon at the Advent Business Center here.
Espeleta, who is the immediate past president of the Cebu Chamber of Commerce and Industry, has urged business leaders here to explore economic opportunities in Bangladesh.
He pointed out that there are several areas where Cebu and Bangladesh can collaborate on.
"The different areas that we can work together with are garments, information and communications technology (ICT), shipbuilding, shipbreaking, agriculture, tea, pharmaceuticals, ceramics, furniture, fruits, and leather industry," he said.
"There are many areas we can benefit from, either we buy and sell or we trade or we invest in those areas. Let's go there, let's explore and do business together with the Bangladeshis," the Cebuano trader told his fellow businessmen.
Espeleta said the primary role of Bangladesh's Honorary Consulate General in Cebu and the Visayas is to represent the Philippines in the affairs of the region.
He said he is going to be "the go-to guy" among Bangladeshis in the Visayas provinces.
The consul said he is looking to boost friendship and linkage between the two countries in the fields of arts, culture, and tourism.
He also pointed out the need to enhance trade, investments, and mutual business relations between the two Asian countries.
Espeleta also shared that his installment as Bangladesh's envoy to the region wasn't planned at all.
"This was not planned, not on my bucket list. But I believe God has set this up like in many situations where you are most needed to do bigger tasks for the bigger community and for the people. God has a way of calling me," he said.
Mayor Edgardo Labella believes that Espeleta will be able to "help spur economic progress and strengthen the bilateral economic relations of our two countries with him as the Honorary Consul General."
"Mr. Espeleta's track record as a chemical engineer by profession, entrepreneur, mentor, professor and corporate executive who eventually led the biggest business group in Cebu, the Cebu Chamber of Commerce and Industry as its 37th president and became the chair of the Economic Development Committee of the Regional Development Council-7, solidifies his capacity and capability to blaze the trail for Cebu City and the entire Visayas region in this new frontier," Labella said. (PNA)