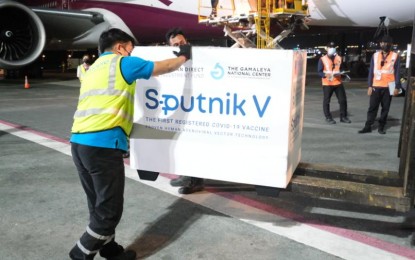 MANILA – Logistical concerns deferred anew the supposed delivery of the 170,000 doses of Russian-made Sputnik V vaccines in the Philippines Wednesday night, the National Task Force (NTF) Against Covid-19 said.
"The arrival of 170,000 doses of Sputnik V (Gamaleya) has been rescheduled to a later date," the task force told reporters in a Viber message.
The Department of Health is yet to confirm the new arrival date of the Russian vaccines, developed by the Gamaleya National Research Center of Epidemiology and Microbiology, the NTF said.
Last month, the delivery of 50,000 doses of Sputnik V vaccines, intended for those who received the Component I, was also deferred.
The Gamaleya Research Institute earlier announced that Sputnik V vaccine, which is being administered in two components, demonstrated the efficacy of 97.6 percent based on the analysis of data on the infection rate of coronavirus among those in Russia vaccinated with two doses.
So far, the Philippines has 180,000 doses of government-procured Sputnik V jabs. (PNA)