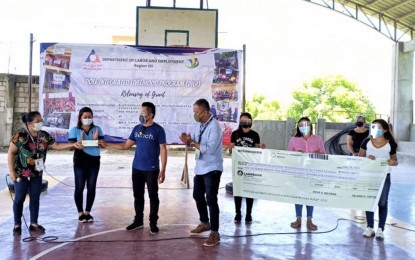 CEBU CITY – A group of fishermen in the neighboring province of Negros Oriental will soon engage in a seaweed farming business after receiving almost PHP1 million in livelihood assistance from the Department of Labor and Employment (DOLE).
The beneficiaries are members of the Kapunongan sa Gagmay nga Mananagat sa Tangculogan (KAGAMATA), an association of fisherfolk based in Barangay Tangculogan, Bais City.
In a statement on Thursday, DOLE-7 Director Salome Siaton said the group's project needs a fund of more than a million pesos.
"As their counterpart, they shouldered part of the project cost and shelled out over PHP200,000," she said.
The livelihood project will benefit at least 65 members of the association, whose income is expected to improve by more than a thousand per member each month once the business is fully operational.
The financial assistance extended by DOLE will fund the materials, jigs, and equipment required by the project as well as the seaweed seedlings.
"More importantly, the financial assistance will also provide beneficiaries with motorized boats, which will help them easily transport their harvest," Siaton said.
DOLE-Negros Oriental Field Office (NOFO) head Marites Mercado said the group will sell dried seaweed to local traders and fresh seaweed in the markets, not only in Bais City but also in the adjoining towns in the province.
The local government in Barangay Tangculogan is the DOLE-7's partner in the livelihood project.
"They will also help us monitor the status of the project implementation as well as facilitate the liquidation of expenses incurred by the project," Mercado said.
DOLE also provided the beneficiaries with exercises and training on project proposal writing and orientation on simple bookkeeping prior to the release of the financial assistance.
To provide them with security, DOLE also enrolled them in a group personal accident insurance for a year. (PNA)