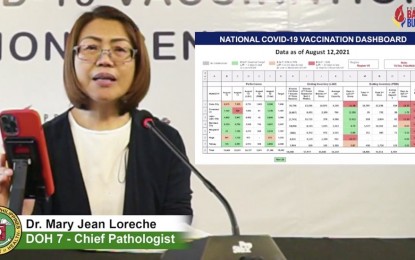 CEBU CITY – Cebu Island's localities have breached the one million mark of vaccine doses administered to priority groups A1 to A4, an official of the Department of Health (DOH) 7 (Central Visayas) said on Friday.
Dr. Mary Jean Loreche, DOH-7 chief pathologist and spokesperson of the Visayas Covid-19 Vaccination Operations Center, said based on Cebu's vaccination statistics as of August 11, the three major cities of Cebu, Mandaue, and Lapu-Lapu, as well as the component towns and cities of Cebu province, have administered 1,012,996 doses of vaccines.
She said the figure increased to 1,049,582 based on August 12 data, which means an additional 36,586 in just one day.
In her daily briefing, Loreche said Cebu Island's localities have administered a total of 635,801 jabs for the first dose and 413,781 shots as of Thursday.
Cebu province recorded 35 percent of the regional tally of vaccines administered with 364,781 shots given to residents. This was followed by Cebu City with 330,308 doses or 31 percent of the accumulated number of jabs.
The cities of Mandaue and Lapu-Lapu have administered a total of 189,946 doses and 164,547 doses, respectively.
Loreche also reported that Cebu's 1.05 million Covid-19 vaccine doses administered represent 74 percent of the 1,422,011 region-wide tally of jabs given to the four provinces of Central Visayas.
The other three provinces that administered the vaccines are Bohol (156,972 doses), Negros Oriental (168,112), and Siquijor (47,345).
The region has an ample supply of vaccines, she said as she reported that a total of 2,286,110 doses of vaccines have been sent by the national government.
The vaccine brands distributed by the DOH-7 to the various vaccination sites in Cebu and other parts of the region are Sinovac, AstraZeneca, Pfizer, Gamaleya, Janssen, and Moderna.
The last vaccine delivery from the national government was the 102,960 doses of Pfizer on August 11, she added.
"These jabs that we received will be distributed to other areas of the province and to Bohol," Loreche said, noting that the vaccines would be delivered this weekend.
She said the region would receive another supply of Sinovac vaccines anytime soon.
"So, jabbing lang tayo ng jabbing, pabakuna tayo (So let's administer the jabs) as many as we can while we have the supplies. And we are in a hurry really to do this because of our surge in cases," Loreche said. (PNA)