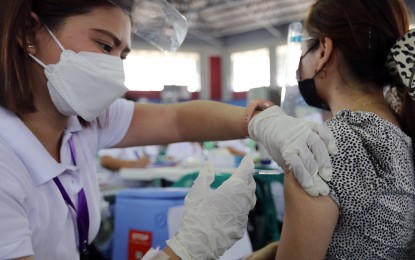 MANILA – The administration of a third dose or booster shot of Covid-19 vaccines is still not recommended pending evidence to support its safety and the steady supply of jabs.
But the Department of Health (DOH) has allotted funds for its possible procurement in 2022.
Health Undersecretary Maria Rosario Vergeire said the government decides based on science and evidence so it has yet to recommend third doses for those who have completed the shots.
"Currently, what we have right now all over the globe is just very small or minimal evidence regarding booster shots, there are few with small samples but for complete evidence, there is still none," she said in a Friday media briefing.
She added that most vaccines administered as a third shot in other countries "are not really the sum or the common vaccine" that the Philippines uses.
The country's vaccine supply is still "unstable", she said, and some Filipinos have not even received their first doses.
But while DOH cannot yet administer booster shots, Vergeire said this does not mean the country is closing its door on such practice.
"So equity and safety is what the government is trying to consider now, hindi po natin sinasara ang pintuan natin. Alam po natin na mangyayari at mangyayari ang booster shots na ito and actually we already have saved money for our booster shots for 2022. Kung saka sakali nakalagay na po 'yan sa ating pinropose na budget (we are not closing our doors. We know that this will happen sooner or later and we have actually saved money for booster shots for 2022. We already have that in our proposed budget)," she said.
Infectious diseases expert Dr. Edsel Salvana, who is also a member of the DOH Technical Advisory Group, likened persons who are illegally getting booster shots to people "getting a second helping of food while so many people around them haven't even gotten anything to eat."
In a Facebook post Thursday, Salvana said having been fully vaccinated means a person has 90 percent lower risk of getting severe disease and dying from Covid-19.
"Boosters might increase your protection from clinical disease (cough or colds) but it won't add that much to already high protection from hospitalization (except for certain immunocompromised patients)," he said. "Please give others a chance to get protected from dying before you steal someone else's dose so that your risk of getting a cold is (maybe) less."
He reiterated that all available vaccines in the country decrease the risk of severe disease by 90 percent or more, including against the highly contagious Delta variant of the coronavirus.
"No boosters needed," he said. (PNA)