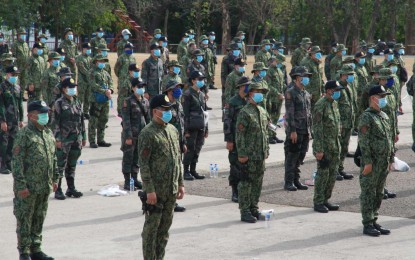 MANILA – Philippine National Police (PNP) chief, Gen. Guillermo Eleazar, on Wednesday assured that the police force upholds accountability through quick response to reports of abuse of its personnel.
Citing PNP records, Eleazar said more than 5,240 PNP personnel have been dismissed from the service from July 2016 to August 2021 while more than 17,000 more were punished with various penalties that include suspension and demotion for various offenses.
His statement came after Bayan Muna party-list Rep. Carlos Isagani Zarate criticized the police force for supposedly removing its policy of mandatory inquest proceedings on police officers in anti-crime operations that would result in the death of suspects.
"Our Internal Affairs Service conducts motu proprio investigations on instances where there are deaths or injuries, either of a suspect or a police officer, in any police operation. This IAS probe primarily determines if there is probable cause to hold a policeman culpable for death and assists in the filing of criminal charges," Eleazar said.
Eleazar said he understands the concerns of some lawmakers regarding the issue and assured them that this would be looked into.
Eleazar said the has already ordered a review of the part of the Police Operating Procedures pertaining to the conduct of inquest during an armed confrontation.
Citing a result of consultation with the PNP Legal Service, Eleazar said the current procedure states that "in cases of armed confrontation wherein a suspect dies, the team leader of the operating unit shall submit the incident for an inquest before the duty inquest prosecutor prior to the removal of the body from the scene except in areas where there are no inquest prosecutors. In which case, the territorial police unit can proceed with the investigation."
"This is impossible as an 'incident' cannot be subjected to inquest proceedings. Only arrested persons are subject to inquest as contemplated in the Revised Rules of Criminal Procedure," Eleazar said.
He also explained that the inquest under the Rules of Court and the inquest under the PNP Operational Procedure are two different and distinct concepts.
"The Directorate for Operations should carefully scrutinize this possible oversight and input the necessary adjustments," the PNP chief said. (PNA)