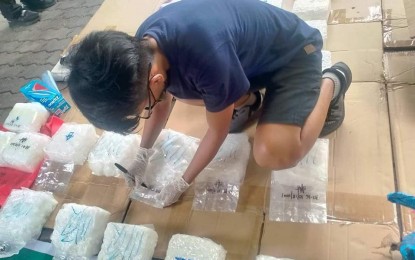 ANGELES CITY, Pampanga – Four Chinese nationals were killed in a drug operation that also resulted in the recovery of some PHP262 million worth of shabu in Barangay Pulong Cacutud here on Monday.
In a statement, Philippine Drug Enforcement Agency (PDEA)-Central Luzon Regional Director Bryan Babang identified the slain suspects as Cai Ya Bing, a native of Yungcheng City, Shanxi, China; Erbo Ke of Quanzhou City, Fujian, China; and Huang Guidong and Wuyuan Shen/Jinpeng Zhang, both of Zhang Zhou, also in Fujian, China.
Babang said PDEA agents secured a drug deal with the group that resulted in the conduct of the buy bust operation, leading to an armed encounter.
Recovered from the suspects were some 38 kilograms of shabu with a Dangerous Drugs Board-estimated value of PHP262,200,000, four .45-caliber handguns; two iPhone cellphones; one weighing scale with charger; and the marked money used in the buy-bust.
Babang said the composite team that led the buy-bust operation came from their Region 3 (Central Luzon) office and other units, the Armed Forces of the Philippines' Task Force NOAH, the Philippine National Police's anti-drug unit in Metro Manila, the National Capital Region Police Office's Regional Intelligence Division, Bureau of Customs, and the Angeles City Police. (PNA)