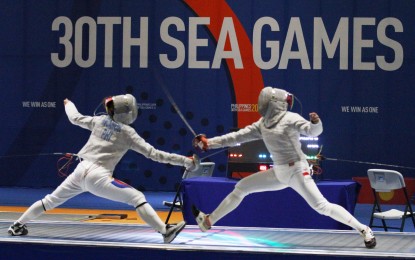 MANILA – Vietnam is looking to begin the 31st Southeast Asian (SEA) Games by the middle of May next year.
This was confirmed during the SEA Games Federation meeting on Monday.
Philippine Olympic Committee president Bambol Tolentino proposed during the online meeting for the event to formally open by May 12.
"As the debate went on, I suggested for a May 12 opening ceremony, a Monday," Tolentino said. "The Vietnamese organizers will confirm the specific dates soon."
Originally scheduled from November 21 to December 2 this year, the SEA Games, still set to take place in Hanoi, was moved to May due to the coronavirus disease 2019 pandemic.
Traditionally being done every odd-numbered year ever since its first staging in 1959, the 31st edition would mark the first time the event will happen in an even-numbered year.
A total of 520 events from 40 sports will take place in Hanoi with the Philippine team participating in 39 of the sports.
However, it is expected that the SEA Games will return to its usual every odd-numbered year schedule by the 32nd edition with Cambodia finally getting a chance to host the biennial meet.
But the 2023 host is set to hold the SEA Games at an earlier date, which posed a problem during the federation meeting since the May 2022 start to the Vietnam games has been set too.
"Initially, they wanted the opening ceremony to be on May 5 or earlier," Tolentino said. (PNA)