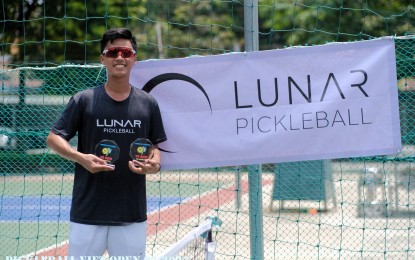 MANILA – Three teams from the Philippines will compete in the World Pickleball Championship from Sept. 19 to 24 in Bali, Indonesia.
The Lucena City Pickleball Club, Makati Pickleball Club and the Philippine Pickleball Team will be up against entries from the United States, Australia, Chinese Taipei and other countries from Southeast Asia in the tier 5 event offering a total cash prize of USD20,000 (PHP1.1 million).
Pickleball is a sport using a paddle and plastic ball with holes. The strokes in pickleball and tennis are similar.
The Lucena City team is composed Anya Uy, Karl Zoleta, Evan Villapando, Lyndon Cena, Peter Paul Labay, Odi Tayag, John Eric Buhay, Sorren Emprese, Gaby Zoleta, Aaliyah Jullao, Sommer Cena, Amanda Zoleta, Ethel Villapando, Louchiel Labay and Natasha Emprese.
"The team is composed of the best pickleball players in Quezon province and we feel that by joining this kind of event helps the growth of the sport in the country," Karl Zoleta said.
Karl was the former team captain of College of Saint Benilde tennis team captain (1997-1998). He has also played for the Philippine junior team.
National player Ana Clarice Patrimonio and former national athlete-turned-coach Czarina Mae Arevalo are leading the Makati squad composed of Hoj Wilcox, Cindy Patrimonio, Pao Barrientos, Michelle Sison, Maite Gonzales, Stella Lopez Lavy, Shelly Mojica, Mychaela Tran, Gina Aramburo, Trixie Chan, Bonns Umali, David Lavy, Pardner Azarcon, Carlo Tenedero and Abel de la Cruz.
Ana Clarice is a medalist at the SEA Games, winning the silver in Malaysia (2017) and Singapore (2015) and a bronze in Indonesia (2011).
Arevalo is a five-time SEA Games medalist who has competed at the Fed Cup for eight years. She is currently No. 1 in the Pickleball Global women's singles rankings.
Gabriel Riconalla III, Christopher Encarnacion, Ken Ewing Narvasa, Christopher John Estremos, Patricia Raymundo, Winona Cabardo, Medelene Ramos and Sarah Jane Lim are in the roster of Philippine Pickleball Team, a selection of players from Luzon, Visayas and Mindanao.
Leander Lazaro, the highest-ranked Filipino in the Pickleball Global men's singles at No. 4, is representing the Lunar Pickleball pro team from the US.
Lazaro captured a silver in the men's singles and a gold in the doubles Advanced category with Kim Ivor Saraza in the world championships last year in Bali.
In an interview with the Philippine News Agency on Sunday, Lazaro said all of them wanted to win medals, saying the Philippine team will hurdle the challenges enroute to medal finish.
He will team up with Sarah Jane Lim while Saraza is paired with Medelene Ramos in the mixed doubles event. Lazaro pocketed the doubles gold medal with Australian Brendan Lee at the 2022 Bainbridge Cup in Mumbai, India.
Two months ago, Lazaro ruled the singles and doubles (with American Matthew Nola) at the Vietnam Open in Hanoi.
At the Asia Pickleball Open held in Phuket, Thailand last March, he finished second in the mixed doubles Open category (with Patricia Raymundo) and men's doubles Advanced category (with Saraza), and third in the men's singles Open category. (PNA)