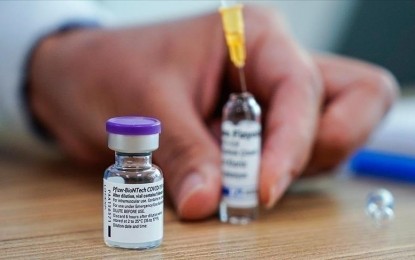 ANKARA – Pfizer raised its revenue forecast from coronavirus vaccine sales to USD36 billion (PHP1.8 trillion) for 2021, according to a financial statement released Tuesday.
The US pharmaceutical's previous 2021 estimates were USD33.5 billion in July; and USD26 billion and USD15 billion, made in May and February, respectively.
The company said the upward revision in the sales forecast reflects higher vaccine doses to be delivered in 2021, which amounts to an estimated 2.3 billion worldwide.
The US Food and Drug Administration paved the way Friday for Pfizer-BioNTech's Covid-19 vaccine to be approved for children aged 5 to 11, opening the door to getting millions of more shots in arms.
Pfizer saw its revenue increase 134 percent to USD24.1 billion in the third quarter from USD10.27 billion in the same period last year.
Its stock price was up 3.3 percent to USD45.09 on the New York Stock Exchange. (Anadolu)