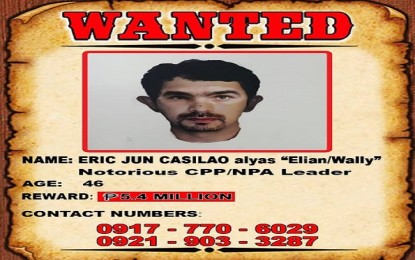 DAVAO CITY – The latest composite sketch of Eric Jun Casilao alias "Elian" or "Wally" from the Philippine National Police (PNP) Forensic Group, Regional Forensic Unit 11 was released by the Army's 10th Infantry Division (10ID) on Wednesday.
In a statement, the 10ID said the photo was based on descriptions by former high-value individuals who were once the comrade of Casilao while inside the communist New People's Army (NPA) movement.
Casilao, 43, is currently the secretary of the Southern Mindanao Regional Committee (SMRC) and the brother of former ANAKPAWIS Rep. Ariel Baring Casilao.
The 10ID added that Casilao has been with the Communist Party of the Philippines (CPP) - NPA for some 20 years with his party wife, May Casilao alias Gab.
Casilao is facing multiple criminal cases that include two counts of murder, kidnapping, and serious illegal detention.
Groomed to be the successor of slain Menandro Villanueva alias "Bok," Casilao has a PHP5.4 million bounty placed on his head.
Villanueva, the longest-serving secretary of the NPA's SMRC and concurrent secretary of the Komisyong Mindanao KOMMID, commanding officer of the NPA's National Operations Command (NOC), and member of the POLITBURO of the Central Committee of the CPP was killed in an encounter with military forces on January 5 in Davao de Oro.
Maj. Gen. Ernesto Torres Jr., 10ID commander, said anybody who can pinpoint the whereabouts of Casilao will get the PHP5.4 million reward money being offered by the Department of National Defense and the Department of the Interior and Local Government.
"I am calling every citizen to continuously support our campaign against the terrorist group. Your information and cooperation are vital to us," Torres said.
The CPP-NPA is listed as a terrorist organization by the United States, the European Union, the United Kingdom, Australia, Canada, New Zealand, and the Philippines.
The Anti-Terrorism Council also formally designated the National Democratic Front as a terrorist organization on June 23, 2021, citing it as "an integral and inseparable part" of the CPP-NPA that was created in April 1973. (PNA)