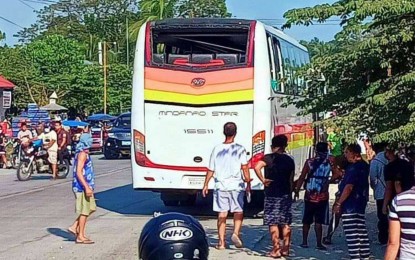 ALEOSAN, North Cotabato – Police authorities are hunting down a local terrorist group believed to be behind the bombing here of a Mindanao Star Bus (MSB) that left one child dead and six others wounded.
Lt. Colonel Bernard Tayong, North Cotabato police spokesperson, said police probers and the Special Investigation Task Force (STIG) are zeroing in on the "Al-Khobar" extortion gang, which is said to be behind the January 11 bus bombing in Barangay San Mateo of this town.
Tayong, also deputy police provincial director, said there were pieces of evidence showing that the bombing was the handiwork of extortion groups preying on the bus firm.
He said the style of attack and the explosive used showed some "signatures" of Al-Khobar, a local extortion group that also prey on multi-national firms operating in Maguindanao and North Cotabato.
Al-Khobar was blamed for the series of bus bombings in the Soccsksargen region for the past several years.
Tayong, meanwhile, downplayed speculations that the bus bombing was a retaliatory attack on the recent police raid in Barangay Gokutan of Pikit town in the same province that resulted in the death of six persons suspected to be members of carnapping syndicate.
About 440 "carnapped" motorbikes were recovered by police in the raid that took place on Dec. 29, 2021.
"No links between the two incidents," Tayong said in a phone interview. "In all likelihood, the bus bombing was due to extortion," he added.
The police have been coordinating with the bus company management to determine how the extortion demand was sent to them.
Probers are also closely studying the closed-circuit television footage taken from a man who boarded the bus at the terminal in Kabacan but alighted in Pikit town, some 15 kilometers from the blast site.
The man was carrying a backpack when he boarded the bus and sat at the rear portion of the targeted MSB unit.
Tayong said other groups, the Bangsamoro Islamic Freedom Fighters included, are also considered suspects. (PNA)