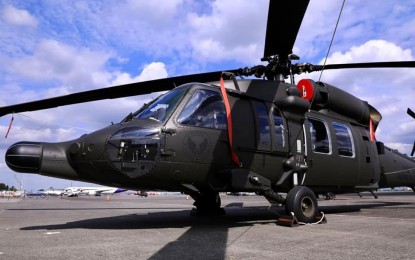 MANILA – It's a go for the government procurement of 32 additional S-70i Black Hawk combat utility helicopters after the Notice of Award (NOA) was issued to PZL Mielec of Poland late last year, Defense Secretary Delfin Lorenzana announced Sunday.
Lorenzana shared in a Facebook post that the NOA was issued on Dec. 28, 2021 for the PHP32-billion project that comes with an initial logistics support package and training for pilots and maintenance crew.
The Contract Agreement is now being drafted after which a Notice to Proceed will officially commence the project.
"The delivery of these helicopters will start on CY (Calendar Year) 2023 (five units) while the remaining ones will be delivered in three batches as follows: CY2024 - 2nd batch (10 units); CY2025 - 3rd batch (10 units); and CY2026 - last batch (seven units)," Lorenzana posted.
The Philippine Air Force earlier (PAF) completed the acquisition of 16 Black Hawk helicopters, also from the Polish aerospace manufacturer, worth USD241 million (about PHP11.5 billion).
The first batch of six helicopters was delivered in November 2020, followed by the second batch of five in June last year that was formally accepted, turned over, and blessed on Oct. 13, 2021.
The last batch of five was delivered on Nov. 8, 2021 and formally accepted by the PAF on December 3.
"The lack of transport planes and helicopters have never been more acute during the pandemic and in the aftermath of Typhoon Odette. This was exacerbated by our aging Hueys that have become uneconomical to maintain. The 12 brand new Black Hawk bore the brunt of the work during these critical times," Lorenzana said.
PAF S-70i units are transporting relief supplies and rescue personnel to areas battered by Typhoon Odette last month.
They have also been utilized to transport Covid-19 vaccines in geographically isolated areas. (PNA)