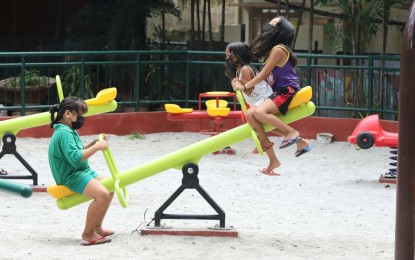 MANILA – The upcoming vaccination against Covid-19 for children aged 5 to 11 years old has 168,355 registrants as of Saturday.
Thirty-two vaccination sites have been identified in Metro Manila, including the Philippine Children's Medical Center, National Children's Hospital, and Philippine Heart Center, for the February 4 and 5 pilot rollout.
On February 7, four hospitals in the Central Luzon and Calabarzon regions will also participate.
Health Undersecretary Myrna Cabotaje said about 15.5 million children can be inoculated, based on the Philippine Statistics Authority data.
"We will do it by tranches depending on the vaccines that will arrive," she said in an online briefing.
There will be no separate inoculation for children with comorbidities to speed up the process. Those with comorbidities must present medical certificates.
Parents or guardians must bring the child's birth certificate or any proof of filiation.
Children aged seven and above would also have to sign an assent form.
Cabotaje said the pediatric vaccination will initiate the "cocoon protection" for families, especially those with children below five years old who cannot yet receive the Covid-19 jab.
She said 15 million doses of the lower-dose Pfizer-BioNTech vaccine are expected to arrive in the first and second quarters.
On February 3 and 9, 1.56 million doses will be shipped to Manila.
"We are expecting weekly deliveries after that. Iyong mga quantities dine-determine pa natin pero at least for the next two quarters made-deliver iyong 15 million (We are still determining the quantity but for the next two quarters, the 15 million doses would be delivered)," she said. (PNA)