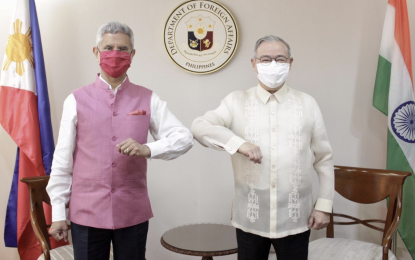 MANILA – The relations between the Philippines and India is on an upward trajectory following the wide-ranging dialogue between Foreign Affairs Secretary Teodoro Locsin Jr. and his Indian counterpart Dr. Subrahmanyam Jaishankar on February 14.
The Department of Foreign Affairs (DFA) on Tuesday said the two held discussions on cooperation in health, trade and investments, science and technology, defense and security and tourism. They also exchanged views on current regional and global issues.
Also discussed was the impact of the coronavirus pandemic in the region and how the Philippines and India could work together to promote economic recovery during the pandemic.
"We are entering a new phase of our partnership. Its basis is the mutuality of national security and development aspirations... Expect to take forward a shared agenda through sustained engagement," Jaishankar said in a separate tweet.
In his remarks delivered during their meet, Locsin bats for closer maritime cooperation not only bilaterally but also regionally in the context of the Association of Southeast Asian Nations (Asean).
"India has been our partner in promoting peace and security in the region, as well as in advocating the rule of law in the face of armed ambition and the anarchy that follows it," he said.
"As maritime countries, the Philippines and India, both at the crossroads of the busiest sea lanes in the world, know the critical role of the rule of law in maintaining stability on the water — that most unstable element yet so vital to the life and thriving of nations," he added.
Jaishankar's visit is his first to the Philippines, and Manila is his only stop in Southeast Asia after attending the Quadrilateral Security Dialogue Foreign Ministers' Meeting in Australia.
The visit comes days after the Department of National Defense and India's BrahMos Aerospace signed a PHP18.9 billion contract to beef up the Philippine Navy's firepower through the acquisition of medium-range ramjet supersonic cruise missiles.
The DFA said the visit affirms the "robust ties" between the two states, as both prepare for closer interaction in the post-Covid world. (PNA)