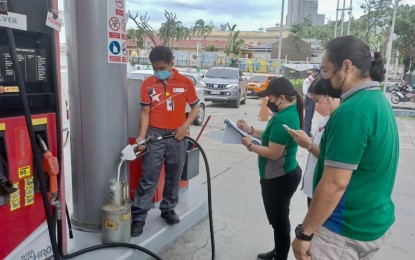 CEBU CITY – The Department of Energy (DOE)-Visayas field office on Friday assured enough supply of fuel and liquefied petroleum gas (LPG) in Central Visayas despite the impact of the Ukraine crisis in oil prices in the world market.
This, as the DOE-Visayas field personnel conducted a surprise inspection in three gasoline stations in the cities of Talisay, Cebu, and Mandaue.
Lawyer Russ Mark Gamallo, DOE-Visayas Director, said they started the on-site inspection following the "marching order" from DOE Secretary Alfonso Cusi to ensure gasoline station operators sell their fuel products within the price range, following a series of hikes due to the ongoing war in Ukraine.
He said oil companies in Cebu also assured him there would be enough fuel supply for 15 days and LPG supplies for the next seven days.
The minimum inventory of supplies of oil companies here, he said, is within the allowable limit based on the 15-day crude supply as mandated under DOE's Department Circular 2003-01-001.
Gamallo said among the directives from Cusi was to ensure that gasoline station operators are regularly calibrating their fuel dispensers and are providing the approved quality of diesel, unleaded and regular gasoline.
"We will intensify the inspection activities in the coming days. We will not announce it because it will be a surprise inspection," Gamallo told the Philippine News Agency (PNA) in a phone interview.
Engineers Renelyn Estiya and Evander Diola visited the GSC gasoline station in Talisay City, Caltex in Landers here, Petron in Mandaue City, and Shell in Escario St., here and checked the calibration of the pump machines to assure the consumers "that every centavo they spent on fuels is well spent".
"The inspectors use a testing instrument, called a calibrating bucket, to verify compliance with the required quantity of petroleum products being sold by dealers. Also, samples of petroleum products were taken to check their compliance with the quality standards being implemented by the DOE," according to the department's statement.
The government could not dictate the movement of prices of fuel as the country is reliant on importation and as mandated under Republic Act No. 8479, the Downstream Oil Industry Deregulation Act of 1998. (PNA)