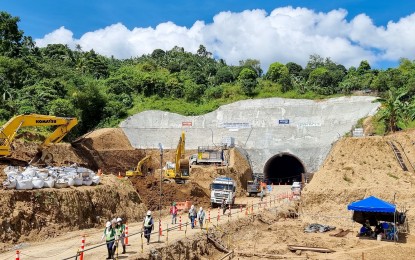 MANILA – The Department of Public Works and Highways - Unified Project Management Office (DPWH-UPMO), which is implementing the Davao City bypass construction project, is now conducting simultaneous tunneling activities on the north portal of the mountain tunnel component.
Included in the list of flagship infrastructure projects of President Rodrigo Duterte's "Build, Build, Build" program, the bypass road will mitigate traffic congestions in Davao City, with the travel time between Barangay Sirawan in Toril District, Davao City and Barangay J.P. Laurel in Panabo City reduced to about 49 minutes from the previous nearly two hours via the Pan-Philippine Highway Diversion Road.
Construction of the southbound direction started on November 2021 and has more than 60 meters of road tunnel excavated with shotcrete, steel ribs, and rock bolts.
UPMO Operations and "Build, Build, Build" chief, Emil Sadain, said in a news release on Saturday that they are making up for the late arrival of special equipment and machinery and Japanese experts due to movement restrictions and delayed issuance of travel permits caused by the pandemic.
The group of Shimizu-Ulticon-Takenaka, led by project director Akira Mito, is undertaking the construction of contract package 1-1 covering 10.7 kilometers (km) of the four-lane highway, inclusive of the 2.3-km tunnel that has a diameter of 10 meters.
Sadain said the first-ever long-distance mountain tunnel in the Philippines was designed to have better seismic resiliency.
The entire 45.5-kilometer bypass road is divided into six: package I-1 (10.7 km), package I-2 (12.8 km), package I-3 (6.1 km), package II-1 (2.7 km), package II-2 (3.5 km), and package II-3 (9.7 km).
The project is funded by the Japanese Official Development Assistance under the Special Terms for Economic Partnership loan from the Japan International Cooperation Agency. (PR)