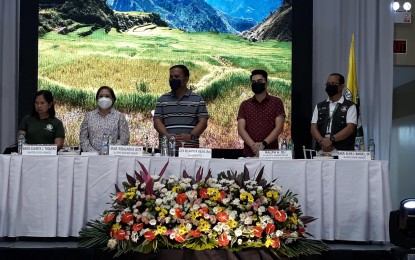 TALAVERA, Nueva Ecija – The National Irrigation Administration (NIA) inaugurated on Friday four projects, including cost-effective irrigation facilities, to benefit more than 14,000 farmers.
NIA Administrator Ricardo Visaya and other officials led the commencement of the solar-powered irrigation systems (SPIS) in Barangay Pamacpacan in Jaen and Barangay Manarog in Gen. Mamerto Natividad, automation of Rizal dam and headgates in Barangay Poblacion West, and the electro-mechanical steel gate, both in Rizal town.
"Tinitingnan ko nga magkano ba ang worth ng projects na ito (I am looking at how much is the worth of the projects). It's more or less PHP125 million, benefiting about 14,300 plus farmers with an area of 9, 450 hectares. Napakalaking bagay ito (This is a big thing)," Visaya said in an interview.
He cited the timeliness of using solar-power irrigation pumps to irrigate rice fields amid the skyrocketing prices of gasoline and diesel, especially when the Russia-Ukraine war erupted.
"Naapektuhan lahat ng mga commodities. Sigurado ako, aangal lahat ng ating mga farmers dahil hindi sila makapag-operate lalo na 'yung mga nasa communal (All the commodities were affected. I am sure that all our farmers will complain because they cannot operate, especially those in the communal)," he said, adding that people preferred gas or diesel-fuel water pumps even when the NIA started to introduce solar-powered irrigation systems (SPIS) in 2017.
Engineer Rosalinda Bote, department manager of NIA-Upper Pampanga River Integrated Irrigation System (NIA-UPRIIS), said the PHP28.6-million SPIS in Jaen town will source water from a creek and drainage to supply irrigation to 400 hectares of farmlands, tilled by 322 farmers.
It is within the NIA-UPRIIS Division III headed by manager Engineer Elenita Toquero.
The other SPIS, located in Rizal town, costs PHP18.9 million to pump water from a deep well for 60 hectares of farmland to benefit 50 farming families, Bote said.
The project falls within the Talavera-based NIA-UPRIIS Division II headed by manager engineer Alvin Manuel Sr.
Meanwhile, the automation of the Rizal dam and headgates costing PHP68.9 million, and the construction of electro-mechanical steel gate worth over PHP7 million that will provide benefit to 9,435 farmers in 14,353.34 hectares, are "great leaps" towards modernization of irrigation system, particularly as the world faces global warming, Bote said.
Rizal Dam, which also belongs to NIA-UPRIIS Division II, was built in 1950.
Visaya, a retired military general, said NIA has also purchased some 435 motorcycles to be distributed nationwide to improve mobility and efficiency of projects in-charge of various offices.
These were on top of 4x4 pick-up trucks recently distributed to different field offices, he said.
Visaya was joined by Deputy Administrator for Administrative and Finance Ralph Du.
They were welcomed by Bote, UPRIIS Engineering and Operations Division Manager engineer Vivencia dela Cruz, and other UPRIIS officials. (PNA)