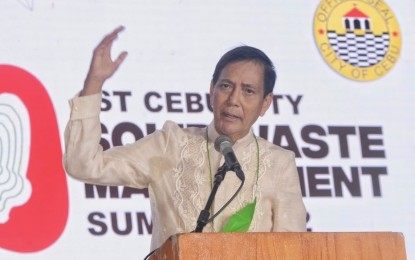 CEBU CITY – The city government will embark on a people-driven solid waste management action plan to address the 30-year garbage problem in this capital city, Mayor Michael Rama on Wednesday said.
In his message during the 1st Cebu City Solid Waste Management Council Summit at the SM Seaside Sky Hall, Rama rallied support from the public and private sector in crafting a novel system of waste disposal, including village-impelled segregation and recycling.
Rama said the city has not yet come up with a comprehensive plan for disposing of tons of garbage generated by the thousands of households, manufacturers, and business establishments.
He pointed out the need to create a system that will prevent environmental degradation due to the indiscriminate throwing of garbage.
He recalled that as a young boy, he enjoyed shallow seawater fishing at the coastal area of Sitio Alumnus of Basak-San Nicolas village which now has murky water gushing through the filthy sewerage system in the southern district.
"I am emotional when we talk about the environment because God gives us the gift of life and what humanity (has) done, the indiscretion of life, of this world, have destroyed what was supposed to be the wonderful creation of the Almighty," Rama remarked.
The summit aims to unify stakeholders and collaborate in crafting ways to address the garbage woes that have been hounding the city for more than 30 years.
Rama cited the effort of Cebu City Community Environment and Natural Resource Officer, Lawyer Jigo Dacua, for initiating a platform that will allow stakeholders to converge and discuss means to resolve challenges on garbage disposal.
On Wednesday's opening of the three-day summit that will end on Friday, local officials were joined by representatives from the United Nations, solid waste management solution providers, representatives of malls, supermarkets, business establishments and non-government organizations, barangay officials, and a few villagers.
Rama said addressing the waste disposal concerns in the city will achieve for the city government its vision of making this highly-urbanized city a globally competitive, environment-friendly, and disaster-resilient community.
"This is not for myself alone. This is for your family. This is for my family," he said, adding that he wants to leave a legacy that is anchored on competence, action, and sensitivity to the plight of his constituents. (PNA)