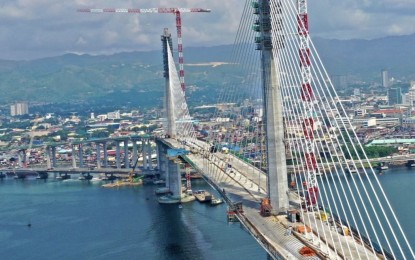 CEBU CITY – It's all systems go for the visit of President Rodrigo Duterte for the opening ceremony of the Cebu-Cordova Link Expressway (CCLEX) on April 27, Mayor Michael Rama said on Friday.
Rama said a presidential inaugural marker will be installed in the iconic bridge, an 8.9-kilometer toll-way bridge project connecting this capital with the island town of Cordova.
He said the city police here has put in place a security master plan to secure the CCLEX and the periphery, with details on the security aspect of the preparation were already discussed during his meeting with CCLEX Bridge Management Board on Wednesday.
Rama said security is among the major concerns as no less than the President is expected to grace the launching of the iconic bridge.
"The President's presence is important because no matter what, he is part of (the milestone) in the past six years. He came in and the whole bridge proceeded," he added.
Duterte also led the groundbreaking ceremony in Cordova town in March 2017.
Rama, along with Cordova Mayor Mary Therese Sitoy-Cho and other officials from Cebu City and Cordova local governments, met with officials of the Cebu-Cordova Link Expressway Corporation (CCLEC), represented by its president, Allan Alfon, to lay down security measures for the big event.
Rama recalled that it was during his previous term as mayor in 2014 that the Metro Pacific Tollways Corp. submitted an unsolicited proposal to construct the iconic bridge.
The toll bridge will use an all-electronic toll collection system but will be implemented in June this year to give more time for motorists to have their radio-frequency identification (RFID) stickers installed, according to the CCLEC statement.
Upon its opening, the bridge will accommodate motorists to drive by the bridge but will use cash for toll payment in the meantime that the RFID system is not being used. (PNA)