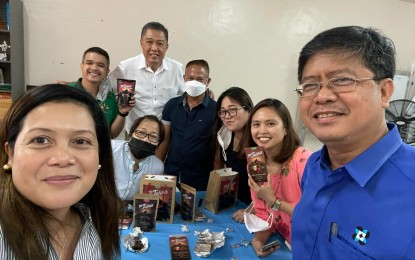 DUMAGUETE CITY – The local government unit (LGU) of Valencia, Negros Oriental, together with its partner stakeholders from the government, private, and civilian sectors, are pushing a dark chocolate bar produced by cacao farmers at the foot of Mt. Talinis as its One Town, One Product (OTOP).
Dumaguete-based businessman Edward Du, who introduced the idea six years ago during his term as president of the Negros Oriental Chamber of Commerce and Industry (NOCCI), told the Philippine News Agency on Wednesday that a draft ordinance and a memorandum of agreement were presented during a meeting here on Tuesday here for finalization.
"We have waited six long years for this and now this will soon come to fruition," he said.
Making the Mt. Talinis Dark Chocolate Valencia's top product under the OTOP program of the Department of Trade and Industry (DTI) is being eyed to be implemented under the Mandanas ruling of the Supreme Court.
"This is going to be the first OTOP Ordinance in Negros Oriental and Region 7, so that we can source funds for the project under the Mandanas ruling as the OTOP will soon be devolved to the LGU," Du said.
Once approved, this undertaking will give way to the LGU and partner stakeholders in starting the ball rolling, from sourcing funds, providing training, setting up a factory, and penetrating both the domestic and international market, he noted.
"Valencia has 22,000 cacao trees planted by different farmers at the foot of Mt. Talinis," Du said.
Initially, those eyed to become part of the project are 11 associations of cacao farmers who will undergo training and other processes once the project takes off.
The proposed OTOP, Mt. Talinis Chocolate Bar, will be a ready-to-eat confection of about 70 percent dark chocolate, Du said.
Present during the meeting and among those involved in the project were officials of the Valencia LGU, NOCCI, DTI, the Department of Environment and Natural Resources, Philippine Cacao Development, Inc., the Department of Science and Technology, Energy Development Corporation, Department of Agriculture, Technical Education and Skills Development Authority, and various cacao farmers' associations.
The project will be 100 percent Filipino and no foreign investors will be allowed to take part in it, Du said. (PNA)