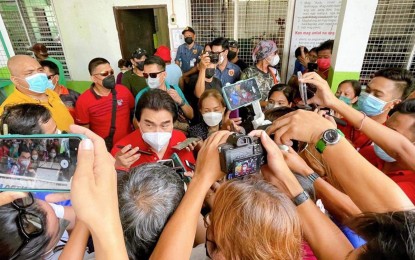 BACOLOD CITY – Mayor Evelio Leonardia, who lost his bid for a third and final term, after being challenged by former Negrense legislator Alfredo Benitez, has questioned the results of the May 9 elections.
"The difference was simply mysterious and unbelievable, especially in areas we consider our bailiwicks. For now, we will leave the matter with our legal team," Leonardia said in a statement on Tuesday night.
The standard-bearer of Grupo Progreso garnered 107,447 votes, which is 64,446 lower than Benitez's 171,893 votes.
Leonardia added that "many were in disbelief when the votes were counted and announced over media outlets and social media sites, considering that his numbers and that of his opponent resulted in an almost consistent pattern".
"It will be up to the lawyers to study and look into possible legal remedies so that we can have the vote counting machines rechecked to satisfy the questions raised by the Grupo Progreso slate and all our supporters," he said.
Leonardia thanked those who stayed with Grupo Progreso and supported his family in these challenging times.
"All your efforts did not go to waste. Your love and support are highly appreciated. You have been a source of inspiration and strength for me all these years," he said.
Reacting to Leonardia's statement, Benitez, a former representative of Negros Occidental's third district, said on Wednesday that "the truth hurts".
"If they want to file a complaint, it's their prerogative. During the campaign period, we can already feel the people coming out, showing their support for us. I knew we were on the winning side," he told reporters after attending the proclamation of Negros Occidental Governor Eugenio Jose Lacson and Vice Governor Jeffrey Ferrera at the Provincial Capitol here.
Benitez's Asenso Bacolod slate dominated the May 9 polls, cornering eight of the 12 spots in the City Council.
Lone District Rep. Greg Gasataya, among Benitez's group, was also reelected for a third and final term.
Grupo Progreso's Vice Mayor El Cid Familiaran secured a fresh mandate after defeating Asenso's former councilor Caesar Distrito. (PNA)