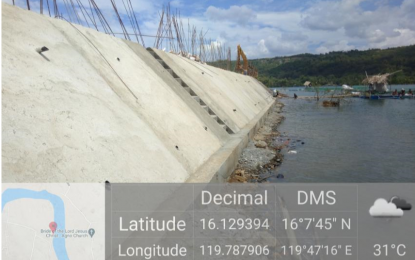 AGNO, Pangasinan – A flood mitigation structure project to improve and protect agricultural lands along Balingcaguing River in this town is underway.
In a statement issued on Friday, Esperanza Tinaza, public information officer of the Department of Public Works and Highways (DPWH)-Ilocos, said the project costs PHP66.6 million and is funded under the General Appropriations Act of 2022.
She said it includes pile driving of steel sheet piles and construction of slope protection.
"Once completed, the flood control structure will prevent water intrusion, protecting residents and properties near the river from possible flooding during heavy rains," she added.
In an interview, Evenard Nagal, a resident of Agno, said they are excited about the completion of the project and the improvements it would bring to Barangay Aloleng, where it is located.
Agno is a coastal municipality located in the western part of Pangasinan. It is known for its white sand beaches and is rich in fishery and agricultural products that are being exported to other places. (PNA)