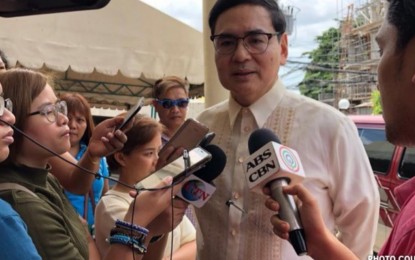 CEBU CITY – A member of the campaign team of presumptive president Ferdinand "Bongbong" Marcos Jr. (BBM) and the UniTeam in Cebu on Friday warned the public about certain personalities involved in "power brokering for a fee", saying the incoming administration will not tolerate such practice.
Erik Miguel Espina, a former Cebu City councilor who campaigned for Marcos in the province, said a report that certain individuals pretending to be "well-connected" to the selection committee of UniTeam's Mandaluyong headquarters are "selling" appointments is very disturbing.
"It is a worse thing to happen under a new government. If they are doing that, we are starting on a wrong foot and we are compromising our president apparent Bongbong Marcos. That's not the way how to start an administration," he told the Philippine News Agency.
Espina was reacting to a report that two personalities who claimed to have campaigned for Marcos' team approached businessmen who wanted to get an appointment with the incoming president and offered to broker a meeting for a fee.
Accordingly, individuals who wanted to get appointed to a government post under the new administration also received an offer from them in exchange for a certain amount.
"Appointments to government positions are based on merits and fitness," Espina said, stressing that a team tasked to ensure a smooth transition between the outgoing and the incoming administrations could have started reviewing the list of personalities considered for certain public posts.
He added that "it would be better if they prepare their CVs (curriculum vitae) and submit them to the search committee tasked to review applications for positions, adding that "appointments for sale" have no place in the BBM-Sara Duterte administration.
He said a committee in the Mandaluyong headquarters may have been flagged down already about those individuals, even as he urged those who want to get appointments for a meeting with Marcos to approach the right people.
"It's not only influence peddling. What they are doing is political brokering. That should be flagged down," Espina added.
According to him, the incoming administration will be reviewing appointments for around 5,000 posts. (PNA)