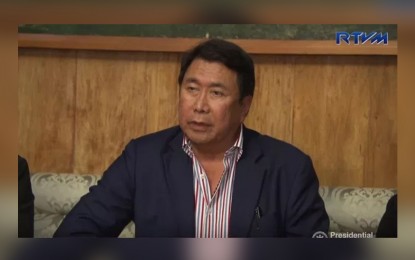 MANILA – Veteran newspaper columnist and journalist Ramon Tulfo was arrested inside the quadrangle of the Manila City Hall on Wednesday morning.
Manila Police District (MPD) confirmed that Special Mayor's Reaction Team (SMaRT) headed by Lt. Col. Rosalino Ibay Jr. arrested Tulfo, 75, for cyber libel.
According to initial reports, the SMaRT served the warrant of arrest to Tulfo who was accused of Violation of Section r (c) (4) of R. A 10175, otherwise known as Cybercrime Prevention Acts of 2012.
Maria Victoria A. Soriano-Villadolid, presiding judge of Regional Trial Court (RTC) Branch 24 of Manila, issued the warrant of arrest.
The initial report, however, does not reflect the name of the complainant.
"That prior to the arrest a certain Atty. Lean Cruz, council for the complainant informed this office about the case and seek police assistance to arrest the accused," the MPD report reads.
The MPD said the accused was duly informed of his constitutional rights as well as the nature of the charges being imputed against him but opted to remain silent.
"Accused is currently detained in this office, prior to the return of warrant to court of origin," the MPD statement read.
In 2019, Executive Secretary Salvador Medialdea filed a libel and cyber liber charges against Tulfo over a series of columns published in The Manila Times.
Other libel and cyber libel charges from other government officials, including Bureau of Internal Revenue Commissioner Caesar Dulay and former Justice Secretary Vitaliano Aguirre were also filed in 2019 against Tulfo.
In a text message to the Philippine News Agency, Aguirre confirmed that he is the complainant in the case.
"I am the complainant. Sa case ng pastillas ito (This is the case related to pastillas)," Aguirre said.
"Pastillas" scheme is the supposed illegal protection racket for Chinese nationals working in the country for the offshore gaming and where Bureau of Immigration officers allegedly facilitate their entry without question or investigation in exchange for grease money. (PNA)