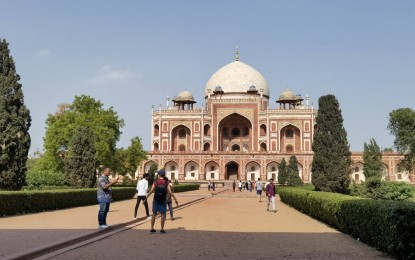 NEW DELHI – India's government expects that its cordial relationship with the Philippines under President Rodrigo Duterte will continue under the administration of President-elect Ferdinand Marcos Jr.
The Philippines is among the participants here at the Asean-India media exchange program on June 14 to 20 and the Special Asean-India Foreign Ministers' meeting and the 12th Delhi Dialogue on June 16 and 17.
India Ambassador Shambhu Kumaran said such activities are crucial to the promotion of mutual economic interests of the Association of Southeast Asian Nations (Asean) countries.
"To promote understanding of politics, economics, and culture in each other. It is important for the larger public in both India and Asean to understand what the government is doing," he said in a recent exclusive interview with state-run People's Television Network.
Kumaran said India and the Philippines have a good relationship under the Duterte administration in terms of defense, health, and economic trade initiatives.
In his recent courtesy call on Marcos, Kumaran said they had a "substantive discussion".
"I was very heartened by the strong commitment to further develop the relationship between India and the Philippines and I, of course, was glad to hand out the letter of felicitation from the Prime Minister (Narendra Modi) to him. And I also conveyed India's deep interest in building further diverse and dynamic relationships with the Philippines," he said in a previous interview.
India's borders have been open to tourists since March 27.
Domestic and international traffic at airports have since reached 93 percent of pre-coronavirus levels while applications for tourist visa and travel on a commercial flight are now allowed.
As of June 8, masks are still required during flights. Violators could be treated as unruly passengers, removed from the flight, and placed on the "no fly" list.
Kumaran said travelers do not need to worry about their safety as their Covid-19 pandemic situation is now "very much under control" and "stable".
"There are no restrictions in terms of travel to India. We are welcoming tourists. We have been welcoming tourists for a few months already, and we do hope the Filipinos will use this opportunity to travel across to India and explore its diverse culture, its cuisine, and wonderful shopping opportunities that await," Kumaran said. (PNA)