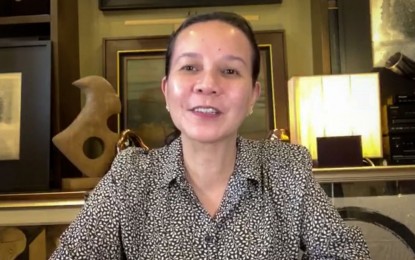 MANILA – More adoptive parents and children longing for homes will have better chances of spending a lifetime together with the simplified process of adoption.
Senator Grace Poe on Tuesday said the finalization of the implementing rules and regulations (IRR) of Republic Act (RA) 11642 or the Domestic Administrative Adoption and Alternative Child Care Act coincided with the 40th day since her adoptive mother, actress Susan Roces, passed away.
The co-author of the landmark law on child care was the keynote speaker at the ceremonial signing of the IRR at the Manila Diamond Hotel in Malate.
"This is a milestone in our shared aspiration to ensure the best interest and future of our children," Poe said in a statement.
The IRR will buttress collaborative efforts for the welfare of Filipino children.
"By removing the judicial phase, we have shortened the procedure, making it less tedious and less costly. By creating an adequately staffed one-stop-shop on alternative child care, all applications will be handled more efficiently and effectively," Poe added.
She acknowledged the efforts of co-authors Senators Risa Hontiveros and Pia Cayetano.
RA 11642 states that there will be a three-year transition process for the implementation of the law.
While pending, the National Authority for Child Care's (NACC) functions related to foster care, issuance of Certification Declaring a Child Legally Available for Adoption, and adoption processes under RA 11222 or the Simulated Birth Rectification Act of 2019 will remain under the Department of Social Welfare and Development (DSWD).
Among the vital procedures which will continue to be facilitated by the DSWD in coordination with the NACC are adoption cases withdrawn from the court; new petitions for administrative adoption; child case management by DSWD Residential Care Facility/Child-Caring Agency, and Local Social Welfare and Development Office; new applications for adoptive parents in Regional Alternative Child Care Office and child-placing agencies; matching and issuance of Inter-Country Adoption Clearance; foster care and simulated birth rectification; inter-country adoption; disrupted pre-adoptive placement; registration of the order of adoption; petition for rescission of the adoption; and travel clearance for cases under the NACC jurisdiction.
For domestic administrative adoption cases and inter-country adoption processes, a transition team composed of the DSWD and the Inter-Country Adoption Board shall act as the NACC, which will ensure the efficient and effective implementation of the guidelines. (PNA)