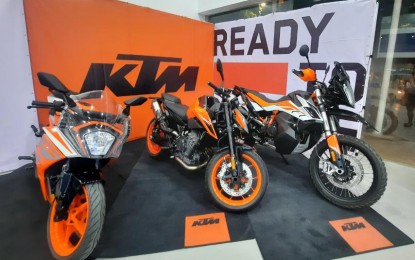 MANILA – Engines of KTM motorcycles are now being produced in the country through the partnership of KTM Asia Motorcycle Manufacturing, Inc. (KAMMI) and Ayala-led Integrated Microelectronics Inc. (IMI), Adventure Cycle Philippines, Inc. (ACPI) president Andre Angelo Santos said.
Santos said during a recent interview the principals made fresh investments in the engine manufacturing facility here that was inaugurated during the first quarter of the year.
"2022 was very special for us because, in the past, we did not build the engine in the Philippines. 2022, we inaugurated our engine building facility. We are now building the engines for our motorcycles that are exported and sold locally," he said.
ACPI is the exclusive distributor of KTM motorcycles in the Philippines.
Santos said the facility produces engines for all 13 models that KAMMI is assembling in its Laguna plant.
"Both partners felt that (it) would be a good tool in order for us to be able to manage our supply chain issues. In the past, when we bring in small items, there were so many variables. But if you are able to build your engine yourself, then you are able to at least manage the supply issues," he told reporters.
Santos added that with the manufacturing of motorcycle engines here, the local content of KTM motorcycles increased to a "little over 40 percent".
The Department of Trade and Industry has been advocating for the manufacturing and sourcing of key vehicle parts locally.
Bringing in the manufacturing activities here creates more jobs for Filipinos and facilitates technology transfer.
"It took a while for Filipinos to be able to learn the technique that our principals were providing, and second, I think the Filipinos gain the trust of the principals. And that's the reason why the building of the engines had been allocated to the Philippines for the bikes exported to China and Asean," Santos said.
KAMMI was sourcing the motorcycle engines in India before.
Meanwhile, Santos said ACPI is conservative with its growth for 2022 relative to the past two years due to supply woes in the global market.
He said KAMMI is eyeing to produce at least 11,000 units this year, lower than the close to 14,000 units assembled last year.
"Supply chain issues have hampered a lot of industries and the vehicle industry is not spared with that. However, we see a lot of parts starting to come in already, and then that is good news and we have still another half of the year to be able to perform," he added.
Santos said the company is also looking forward to the easing of pandemic-related lockdowns in China to ramp up exports to the East Asian country.
For the past 4.5 years, KAMMI has produced 38,000 motorcycles in the Philippines, 85 percent of which were exported to China and Asean.
From only two motorcycle models being produced here, it expanded to 13 models. (PNA)