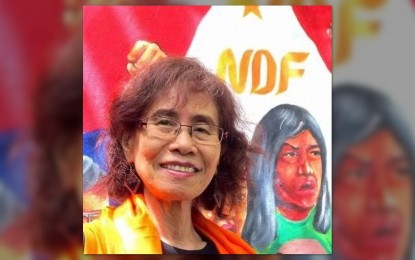 ILOILO CITY – The conviction of a high-ranking Communist Party of the Philippines-New People's Army-National Democratic Front (CPP-NPA-NDF) official for murder shows the "true color" of its leaders, the military said on Thursday.
A Taguig City Court sentenced Concha Araneta alias Maria Concepcion Araneta/Chacon/Jojo/Etang to reclusion perpetua for the death of Metodio Inisa on the night of September 18, 1975 in Sitio Agbanuod, Barangay Panipiason, Madalag, Aklan.
The victim was killed for providing temporary shelter to a member of the Philippine Constabulary.
Araneta is the deputy secretary of Komiteng Rehiyon Panay of CPP-NPA-NDF) based on the military's records, Capt. Kim Apitong, officer-in-charge of the 3rd Division Public Affairs Office of the 3rd Infantry Division of the Philippine Army, said in an interview.
"The judgment for her criminal case 3035, which is murder, by the National Capital Judicial Region Taguig City Branch 266 has a huge impact on the communist terrorist group. This is a big development, we welcome this because this shows their true color, especially of their leadership," he added.
The 16-page court decision dated June 21, 2022 and promulgated on June 28 also ordered the accused to pay the heirs of the victim a total of PHP300,000 as civil indemnity, moral and exemplary damages.
Since Araneta serves as the second secretary that leads the operation of the terrorist group in Panay, the military spokesperson said there could still be other cases with all the killings committed by her group within their area of operation.
Apitong added that she should be held accountable for all their operations to include recruitment and killing.
The last time Araneta was seen was between 2016 and 2017 when she was part of the terminated peace talks.
All lower military units have been informed of the development and Apitong also called on those with knowledge of her whereabouts to inform authorities.
The CPP-NPA is listed as a terrorist organization by the United States, the European Union, the United Kingdom, Australia, Canada, New Zealand, and the Philippines.
The NDF has been formally designated as a terrorist organization by the ATC on June 23, 2021, citing it as "an integral and inseparable part" of the CPP-NPA created in April 1973. (PNA)