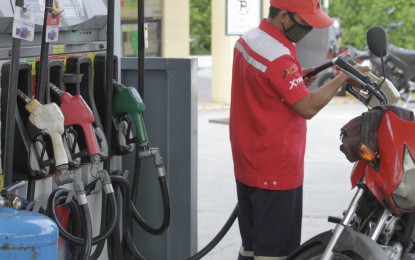 MANILA – After four straight weeks of big-time price hikes, oil companies will roll back petroleum prices starting Tuesday morning.
In separate advisories, Caltex, Cleanfuel, Petro Gazz, PTT Philippines, Seaoil, and Shell announced they will cut diesel prices by PHP3 per liter.
Caltex, Seaoil, and Shell will also reduce prices of kerosene by PHP3.40 per liter.
There will be no adjustment in prices of gasoline this week.
With the movement in prices last week, for this year alone, there were net increases of PHP29.25 per liter in gasoline prices, PHP44.80 per liter for diesel, and PHP38.80 per liter for kerosene.
Industry experts said oil prices in the global market fell last Friday amid fears of a looming recession and slower economic growth globally that temper fuel demand.
"The decline can be attributed to central banks rushing to tighten monetary policy in the face of persistent inflation in a bid to put a lid on it. However, there is a risk in this fast tightening and this risk is a full-blown recession, which would likely affect oil demand, and, as a result, prices," Irina Slav of OilPrice.com said. (PNA)