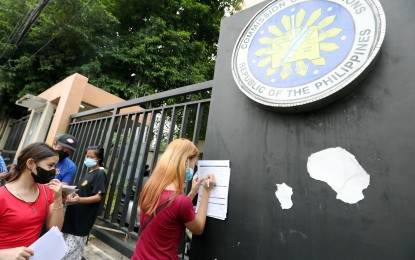 MANILA – The Commission on Elections (Comelec) is looking to register up to 400,000 new voters for this year's barangay and Sangguniang Kabataan (village and youth council) polls.
"Based on our statistics, if we are in 65 million-plus in the last May 9 polls, we expect it to increase by 300,000 to 400,000, so the number of our registered voters in the Barangay polls will reach around 66 million," acting Comelec spokesperson John Rex Laudiangco said in a Laging Handa briefing Tuesday.
This came as the poll body resumed voter registration activities starting Monday which will run until July 23.
On the other hand, the poll body official added that they expect some 23 million youth voters to participate in the village and youth polls.
"I just want to clarify that 23 million is not all for SK since it covers ages from 15 to 30 years old. So, on December 5, for those 15 to 17 years old they will receive the SK ballot," Laudiangco said.
He added that voters aged 18 to 30 will receive two ballots -- one for SK and one for the barangay polls.
"Of course, those (voters) aged 31 and above, they will just receive ballots for barangay (polls)," he added.
Qualified applicants may register at their local Comelec office or the Office of the Election Officer (OEC) in the area where they intend to vote in their city/municipality.
The local poll body offices are open Mondays to Saturday including holidays, from 8 a.m. to 5 p.m.
The barangay and SK polls are set this coming December 5. (PNA)