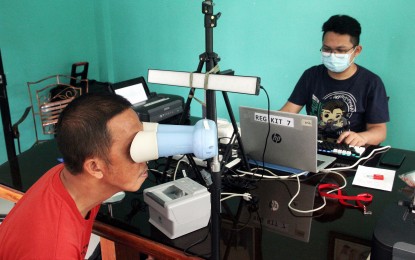 MANILA – The government's overall efficiency would get a boost with the digitalization of its processes, eventually reinvigorating the country's economy, a Globe Telecom Inc. (Globe) executive said Tuesday.
Globe president and CEO Ernest Cu welcomed the proposed e-governance bill, a new attempt to pass an earlier Senate bill on government digitalization that was stuck at the committee level in the 18th Congress.
"We welcome the move towards digital tools and processes in government. This will help speed up transactions with government agencies, from getting necessary documents for school or employment to securing business permits and registration," Cu said.
He said the measure, filed by Leyte Rep. Martin Romualdez, would help reinvigorate the economy and added that the Covid-19 pandemic made government digitalization an urgent need.
"Digitalization offers convenience and ease of doing routine transactions. It saves time and effort that would be spent in interminable queues which is very unproductive," he said.
He cited the report made by the Department of Finance on how the opening of electronic payment channels boosted collections for the Bureau of Internal Revenue at PHP2.07 trillion and the Bureau of Customs at PHP647.77 billion in 2021.
"We are looking forward to the progress of this bill in Congress and stand ready to support the government to see its digitalization goal into full fruition," he said.
Last week, legislators filed House Bill 3, or the proposed E-Governance Act of 2022 that was largely based on the previously filed Senate Bill 1738. (PNA)