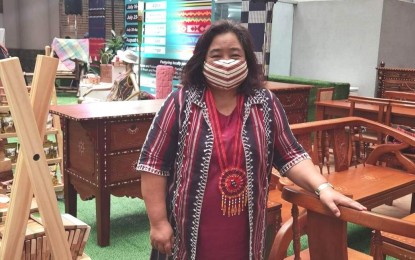 BAGUIO CITY – The Department of Trade and Industry (DTI) in the Cordillera Administrative Region (CAR) is urging the public to "take a trip around the region" through the featured products of the different provinces at the "Impakabsat" trade fair in SM-Baguio mall.
In an interview on Monday, Juliet Lucas, regional director of the DTI-CAR, said the activity that opened on July 16 will be held until August 19.
"We will feature each province's products every week. The first will be products from Abra," Lucas said.
"Impakabsat" is a local word for brotherhood.
Among the items being sold at the fair are handwoven and naturally-dyed fabrics and apparel, bamboo and woodcrafts, and processed food.
Lucas said the trade fair is an annual activity of the DTI-Cordillera that started in the late 1990s as a way of helping promote and market the various products of the region's micro, small and medium enterprises (MSMEs).
She said their agency continues to help the MSMEs not only to improve their products to meet the desired standard but also to encourage them to pursue the business.
She said about 99 percent of the region's businesses are driven by MSMEs which gives the owner an income and the means to provide employment to others.
Lucas noted that the trade fair is held in line with the celebration of the 35th anniversary of the region. (PNA)