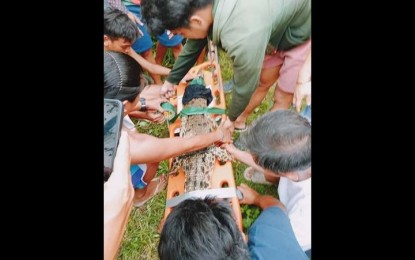 GUIGUINTO, Bulacan – A crocodile roaming free in the Guiguinto River here was finally captured on Sunday afternoon.
Mayor Paula Agatha "Agay" Cruz confirmed on Monday that the crocodile was captured around 2 p.m. along the riverbank in Sitio Tabon, Barangay Malis.
Cruz said the crocodile was turned over to the Biodiversity Management Bureau (BMB) of the Department of Environment and Natural Resources (DENR).
She said residents captured the crocodile upon spotting it in the river.
She also thanked the Municipal Environment and Natural Resources Office, Municipal Agriculture Office, and Municipal Disaster Risk Reduction and Management Office for their help in capturing the crocodile that has been sowing fear among the residents for the past three weeks.
Meanwhile, Emelita Lingat, provincial environment and natural resources officer, said she is still waiting for the official report on the captured crocodile.
The sightings of the crocodile were coordinated with the BMB-DENR in the latter part of June. (PNA)