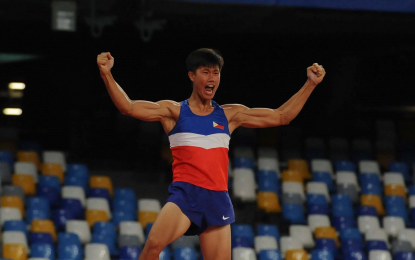 MANILA – A lawmaker on Sunday filed a resolution commending pole vaulter Ernest John "EJ" Obiena for his historic bronze medal finish in the 2022 World Athletics Championships and for climbing to No. 3 in the world rankings.
In the resolution, Manila District Rep. Rolando Valeriano said Obiena brought honor and glory to the country by winning a medal in the "most prestigious and competitive" global competition held in the United of States on July 24.
Obiena cleared the 5.94 meters in the finals of the pole event in the men's division of the 2022 World Athletics Championships, breaking the Asian record of 5.93 meters that he set during the 17th Golden Roof Challenge in Innsbruck, Austria last September 2021.
Valeriano said Obiena has risen to No. 3 in the latest world rankings for men's pole vault due to this "outstanding feat".
"EJ once said that he hoped to inspire his fellow youths of Tondo, where he is from. He wants them all to dream, and go after this dream, for anything is possible through hard work and grit," he said.
Valeriano also highlighted Obiena's "unparalleled compassionate character", when he pledged to donate the incentive he would be receiving from the Philippine Sports Commission to an ailing Lydia De Vega-Mercado, who was once labeled as Asia's fastest woman.
"The truth is that EJ is a real inspiration, not just to us from Tondo, but to all of us Filipinos This outstanding athlete, who is not just a world class pole vaulter, but a person of unparalleled compassionate character," Valeriano said.
Obiena earlier announced that the PHP250,000 incentive that he will get from the Philippine Sports Commission for breaking his own Asian record in pole vault will be donated in full to Mercado, who is currently in a critical condition amid her battle with Stage 4 breast cancer.
"I am deeply saddened by the news of Mam Lydia's health issues, and the pleas of her family for financial assistance for the mounting medical bills. I have met Mam Lydia in Singapore on many occasions, and she has always been kind, supportive and loving individual," Obiena said. "On the flight back to Italy, it occurred to me that despite my own training needs, Mam Lydia needs this money more than I do".
He then announced that his adviser, James Lafferty, and his wife, nutritionist Carol, will also pledge PHP250,000 to the Mercados for her recovery.
"In total, Team Obiena will pledge PHP500,000 to Mam Lydia and her family. We hope this makes a difference and gives Mam Lydia added strength to battle this horrible disease," Obiena said. (PNA)