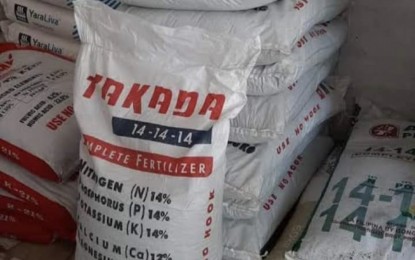 LAOAG CITY – The Fertilizer and Pesticide Authority (FPA) has ordered the immediate pullout of some fertilizer products proliferating in the market which failed to meet quality standards.
The latest laboratory analysis conducted from the different samples showed that the Turbo Prime 14-4-21, Takada 14-14-14, Will-Grow Granular, Golden Agro Plus, Vine Agro 14-14-14, and Vine Agro Bulk Blended, among others, still did not meet the required standard based on their respective guaranteed analysis.
As a result, FPA Ilocos Norte officer Noel Tablada said Wednesday that their central office has recommended the suspension of the license to operate and certificate of product registrations of the local manufacturers of these products.
These include the Will Agro-Chemical Products Trading, VALAP Incorporated and the Divine Agricultural OPC based in Nueva Ecija, Tarlac and Quezon City.
The FPA earlier received reports of unregistered and fake fertilizers which are being sold in different areas of the country.
Some of these were sold at a lower price than their counterpart's original and registered products. There were also complaints about bags of fertilizers packed and labeled with specific grades like Urea (48-0-0) but the actual contents are downgraded or mixed fertilizers.
"These trading practices happening on the ground is unfair and must be stopped, especially now that the country is grappling with the economic downturn. This is a total disregard for the condition of our farmers and the broad Filipino public, who are now taking the brunt of continued price increases of commodities and inflation," said Eric Divinagracia, officer-in-charge of the FPA, as he ordered all regional filed units of the FPA to monitor, apprehend, confiscate and prosecute erring individuals and entities to hold them liable for their exploitative transactions.
On the part of the fertilizer manufacturers, the FPA advised them to comply with the required standards within two months or their licensed will be revoked. (PNA)