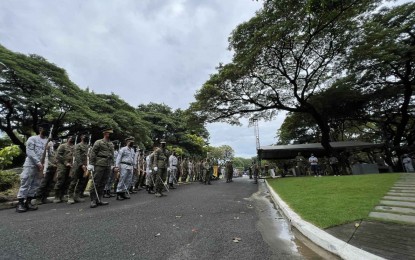 MANILA – The Philippine Army (PA) announced that its Security and Escort Battalion is all set for the state funeral that will be accorded to former President Fidel V. Ramos (FVR) whose inurnment is scheduled on Tuesday.
Ramos, the country's 12th president who served from 1992 to 1998, died last July 31 at the age of 94.
In a statement Sunday night, PA spokesperson Col. Xerxes Trinidad said the PA Security and Escort Battalion will be joining other honor guards of the Armed Forces of the Philippines (AFP) in rendering the honors to Ramos, who also served as AFP chief-of-staff and Defense Secretary under the late former president Corazon Aquino.
"The PA, through its Security and Escort Battalion, joined honor guards from other AFP major services in rehearsing the state funeral for the late president and commander-in-chief Fidel Valdez Ramos on August 7, 2022 at the Libingan ng mga Bayani, Fort Bonifacio, Metro Manila," he added.
A battalion-sized contingent of honor guards will render funeral departure honors for the late president at Heritage Park in Taguig City, where the cremated remains of the former commander-in-chief currently lie in state.
"Soldiers will then accompany the convoy of the former first family and other VIP guests to the Libingan ng mga Bayani. A second battalion-sized contingent will accord funeral arrival honors for the remains of the late president upon arrival at the Libingan ng mga Bayani. The honor guards will then join a composite team in the funeral march to the inurnment site. Full military honors and a 21-gun salute will conclude the state funeral," Trinidad said.
Meanwhile, the two-day public viewing for the late former president will wind up on Monday.
Amid heavy rains, Ramos' supporters lined up at the Heritage Park and honored his life and legacy.
Philippine flags at camps and military installations nationwide are being flown at half-staff in mourning of Ramos' passing.
"Soldiers are also wearing black armbands on their uniform's left sleeve in accordance with the military tradition on the passing of a former commander-in-chief," Trinidad said. (PNA)