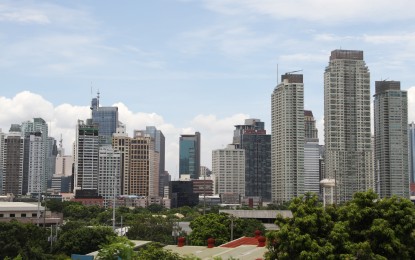 MANILA – Moody's Analytics forecasts the sustained expansion of the Philippine economy in the second quarter of 2022 at 8.8 percent.
In its Asia Pacific Economic Preview for the week covering Aug. 8-12, 2022, the subsidiary of Moody's Investors Service said the projected growth of the domestic economy from April to June this year "have put the country on track to comfortably meet its GDP (gross domestic product) target of 7-9 percent in 2022."
"Private consumption and investment will buoy second-quarter growth, but higher inflation rising interest rates, and fiscal consolidation will see the economic expansion slow in the second half of the year," it said.
Economic managers have earlier reduced the growth target for this year between 6.5-7.5 percent on account of the impact of domestic and external developments.
The domestic economy grew, as measured by GDP, by 8.3 percent in the first three months of this year, sustaining its expansion since recovering from negative output in the second quarter of last year when it rose by 12.1 percent.
The Philippine Statistics Authority (PSA) is scheduled to report the 2022 second quarter output on Aug. 9.
Economic managers said household consumption and private investments are projected to back the economy's continued recovery amidst the impact of higher inflation, among others.
They also cited strong manufacturing industry, high vaccination rate, improvement in healthcare capacity, and rise in tourism and employment as among the buoy for this year's growth.
PSA data show that manufacturing expanded by 10.1 percent in the first quarter of the year, the second top contributor to domestic growth during that quarter and follows the 26.5 percent rise in transportation and Storage.
The industry sector grew by 10.4 percent year-on-year in the first quarter of this year, a reversal from its -4.2 percent print in the first quarter of 2021. (PNA)