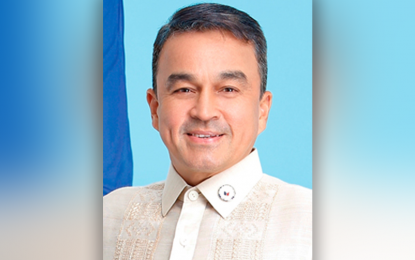 MANILA – A measure allowing the burial of the country's "sports heroes" at the Libingan ng mga Bayani has been filed at the House of Representatives.
Surigao del Norte Representative Robert Ace Barbers on Thursday filed House Bill 3716, which seeks to allow the interment of sports heroes at the Libingan ng mga Bayani in recognition of their "enormous work, dedication and sacrifices they have endured to bring pride and honor to our country".
The bill defines "sports heroes" as those distinguished Filipino athletes who possess character and integrity and who have represented and brought honor and glory to the country by winning at least a gold medal in any Southeast Asian Games, at least a silver medal in any Asian Games or Asian Cup, at least a bronze medal in any Olympic or World Games, or a world champion in any professional sports competition.
Barbers, quoting Joseph Hastings in an article written recently, said "sports stars become heroes when they are admired for their athletic accomplishments. As a society, we yearn to feel a connection to them, bask in their success, and pattern our lives after them."
"Filipino sports icons have this amazing, unique way of making a positive impact in our society. They are our source of inspiration and strength in direst situations and serve as good role models, especially to the youth. With their incredible achievements that brought honor to our country, they deserve a spot at the Libingan ng mga Bayani," Barbers said.
He said the measure is a "token of gratitude" to sports heroes like Filipino sprint legend Lydia de Vega-Mercado and other "unsung" sports heroes.
"I hope that it is not too late to honor our sports heroes like Lydia de Vega," he said.
The House of Representatives on Monday adopted a resolution expressing its condolences to de Vega-Mercado's family.
House Resolution 231 also paid homage to de Vega-Mercado's contributions to the country as a world-class athlete.
Speaker Martin Romualdez, author of the resolution, said de Vega-Mercado's legacy will live on in the hearts of millions of Filipinos as "one of the best and brightest shining stars" of Philippine sports. (PNA)