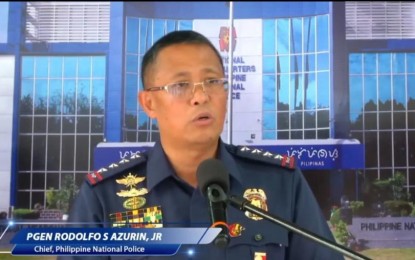 MANILA – Philippine National Police (PNP) chief Gen. Rodolfo Azurin Jr. on Monday ordered a probe into an apparent rise in abduction cases in the country of which some have already gone viral on social media.
In a press briefing in Camp Crame, Azurin said all concerned units of the PNP are being tapped whenever a relevant piece of information on a case is obtained by investigators.
"Kapag merong krimen like yung kidnapping na sinasabi at may nakita po na sasakyan, we tap the help of the Highway Patrol Group (HPG). Kapag meron pong na-recover na baril immediately tinatap natin ang Firearms and Explosives Office (FEO) for verification. Ang sa atin, parang 'all of PNP units approach'. Kung ano po ang maitutulong ng bawat unit, kung ano yung skill nila na dapat na magamit, sabay-sabay po yan na ina-address ng kapulisan (When there is a crime like an alleged kidnapping and a vehicle is seen, we also tap the help of the Highway Patrol Group (HPG). When a gun is recovered, we immediately contact the Firearms and Explosives Office (FEO) for verification. It's like we do an "all PNP units approach". Whatever a PNP unit can contribute, what skills do they have that can be utilized, we are addressing these all at the same time)," he stressed.
Azurin, meanwhile, emphasized that the public's support is vital in solving these cases.
"Napapadali pa nga po because yun pong mga video na pinapadala sa mga social platforms it would aid yung mga kapulisan natin. Kung hindi nila pinapadala yun, ibig sabihin ay totally unaware ang ating mga kapulisan (Our work becomes easier because of the contributed videos being given to us through the social platforms it would aid our police personnel. If they did not send those videos, it would seem the policemen are totally unaware)," he noted.
Azurin said that the latest reported kidnapping cases that they are probing happened on June 17 and July 4.
"These pieces of information that are very vital for the information of the police and everything that are being forwarded are already being acted by our investigators. Actually, we checked itong mga video na ifinorward sa mga different media platforms and nakita po natin na yung mga nagdaang krimen na pinapakita doon, these happened in the past as early as 2021 (Actually, we checked the videos forwarded to us using different media platforms and we saw that they are past crimes, these happened in the past as early as 2021)," said Azurin.
The PNP earlier allayed fears of rampant kidnapping cases in the country.
Citing the incidents of two children who were earlier reported missing in Bulacan, PNP spokesperson Col. Jean Fajardo said investigation showed that one of them ran away from home after being scolded while the other stayed overnight with a friend without telling their parents.
Meanwhile, Gaspar Maneja, the suspect in the killing of 15-year-old bike enthusiast Princess Marie Dumantay who was earlier reported missing, was already caught.
Authorities have also nabbed the suspect who robbed and killed 24-year-old sanitary engineer Princess Dianne Dayor in Bulacan. The victim was last seen on July 2 and was found dead in a grassy area in the town of Guiguinto on July 5.
Last week, the abduction of 25-year-old Eugene del Rosario in a gasoline station in Taal, Batangas went viral on social media. He was later found dead in a grassy portion of the Eco-Tourism Road in Sitio Pontor, Barangay Bignay 2 in Sariaya, Quezon on Aug. 17. (PNA)