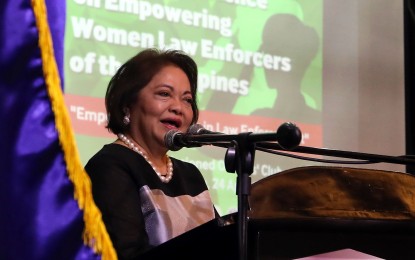 MANILA – President Ferdinand Marcos Jr. has designated former Energy Regulatory Commission (ERC) chairperson Agnes Devanadera as acting head of the Clark Development Corporation (CDC), Malacañang announced on Saturday.
Press Secretary Trixie Cruz-Angeles confirmed Devanadera's appointment in a media statement.
Devanadera was appointed acting CDC president and chief executive officer on September 1, based on the document released by the Office of the Press Secretary.
She will replace Brig. Gen. Manuel Gaerlan (ret.).
She will also concurrently serve as a member of the CDC Board of Directors, based on her appointment paper.
"We confirm the appointment of Agnes Vicenta Salayo Torres Devanadera as Acting President and Chief Executive Officer, and Member of the Board of Directors of Clark Development Corporation. She was formerly Chairperson of the Energy Regulatory Commission," Cruz-Angeles said.
The CDC was organized in April 1993 as a subsidiary of the Bases Conversion Development Authority, which is tasked to manage the Clark Freeport Zone and Clark Special Economic Zone in Pampanga and Tarlac provinces, considered among the country's fastest growing investment destinations
It oversees the day-to-day affairs in Clark, ensuring that a viable business environment is enjoyed by locators and investors, employees, residents, local communities, and other stakeholders.
The 72-year-old Devanadera was ERC chair under the Duterte administration.
She was also a former Government Corporate Counsel, Solicitor General, Justice secretary, Interior and Local Government undersecretary, mayor of Sampaloc town in Quezon province, and national president of the League of Municipalities of the Philippines.
The Clark International Airport Corporation said it looks forward to a continued fruitful partnership and creating opportunities in Pampanga's freeport and special economic zone while the municipality of Sampaloc sent its congratulations and greetings to its former mayor via social media. (PNA)