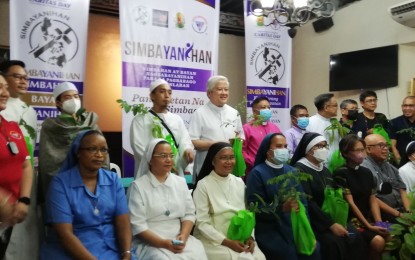 DAGUPAN CITY – This city launched on Monday an interfaith movement encouraging active participation and engagement of the people in the local governance processes.
In his message during the press conference, Caritas Philippines executive secretary Rev. Fr. Tony Labiao said Simbayanihan is geared towards the development of the common good in the communities.
"We need good governance, principled politics, and principled leadership. We will engage communities and those from other faith(s)," he said.
He added the movement will undergo three processes, including "ugnayan" (building partnership), "kalakbayan" (cooperation), and "bayanihan" (active collective participation).
Simbayanihan will connect the organizations from the different sectors at the grassroots level to the different agencies of the national government and the local government units.
By coming together as a group, the organizations can avail themselves of the different services of the national government applicable to their needs as a group.
Simbayanihan technical working group head, Rev. Fr. Rex Arjona, said the movement will abide by principled cooperation in working with the government.
"We have not totally given up on politics as it is not altogether bad but our eyes are also open," he said.
The launching was attended by evangelical movement representatives and Muslims, as well as other non-government organizations.
Meanwhile, some 400 individuals have benefited from the feeding program and coronavirus disease 2019 (Covid-19) vaccination activity of Caritas Philippines, alongside the launching of the movement. (PNA)