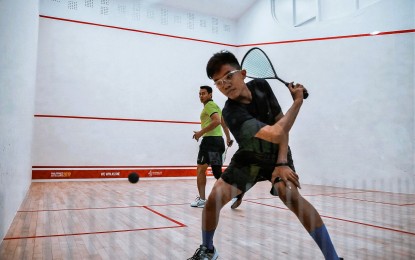 MANILA – Filipino squash players Christopher Buraga and Jonathan Reyes marched into the boys' Under-17 quarterfinal round of the 6th CMS Borneo Junior Open at the Squash Rackets Association of Sarawak courts in Kuching, Malaysia on Thursday.
Buraga defeated Malaysian Ladon Leong Zhang Yue, 3-0 (11-3, 11-5, 11-3) to arrange a meeting with another Malaysian, Tho Wei Yan, who prevailed over Singaporean Fydel Mok, 3-0 (11-1, 11-5, 11-9).
Reyes, on the other hand, scored a 3-0 (11-3, 11-0, 11-5) victory over Malaysian Hemant Subramaniam to advance against Malaysian Satchhin Selvanayagam, who beat his compatriot Muhammad Dalqifh Nauffal, 3-0 (11-5, 11-9, 11-8).
Second seed Malaysian Wong Lee Hong, Indian Teerth Jilka, Pakistani Abdullah Nadeem and Korean Lee Jong Hyeok also made it to the next round of the Asian Junior Super Series gold event.
Hong outclassed compatriot Daarvish Thangaraja, 3-0 (11-3, 11-1, 11-3) Jilka prevailed over Malaysian Badi'uzzaman Sa'id Nursi, 3-1 (11-9, 9-11, 11-9, 11-5); Nadeem rallied past Malaysian Altamis Aqhar Sallam A Sufian, 3-1 (10-12, 14-12, 11-6, 11-2); and Hyeok downed Malaysian Mark Lo Zi Jin, 3-0 (11-1, 11-2, 11-3).
The other quarterfinalists are Malaysians Veroon Heng, Isaac George, Muhammad Alif Bin Hashim, Hashvind Kugan, Tushyal Selvakumar, Kuhen Manimaran, Isaac Ng Di Shen and Saantindraa T.S. Mohan Raj.
Team Philippines coach Edgar Balleber is happy with the performance of his players.
"I think there is a big chance for them to reach the semifinal. We'll see after the games but I'm optimistic that they will meet in the final," said Balleber, a SEA Games veteran before joining the coaching staff of the Philippine Squash Academy.
Buraga ranks No. 4 in the Asian Squash Federation Under-17 category behind Malaysia's Wa-Sern Low, Korea's Joo Young Na and Malaysia's Harith Daniel Jefri.
Pakistan's Huzaifa Ibrahim is No. 5 followed by Malaysia's Kreethi Pillay Muniswaran, India's Aditya Chandani, Malaysia's Lee Hong Wong and Hong Kong's Chung Hin Lee and Tsz-Shing Tam. (PNA)