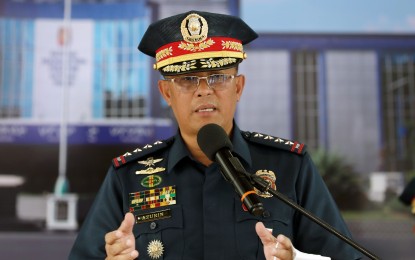 MANILA – The Philippine National Police (PNP) on Wednesday said it will crack down on unauthorized security personnel in Philippine Offshore Gaming Operators (POGO) and other industries that have become notorious for violence and other illegal activities.
"I have directed the PNP Civil Security Group (CSG) and Police Regional Offices to conduct an inventory and accounting of all private protective agents providing security services as 'bodyguard' to some VIPs, including foreigners engaged in business activities in the country," PNP chief Gen. Rodolfo Azurin Jr. said in a statement.
He added that as a general rule, licensed protective agents must be covered by Special Duty Detail Order (SDDO) from the PNP's Supervisory Office for Security and Investigation Agencies (SOSIA), authorizing them to carry firearms and perform bodyguard duties for their protectees.
"Protection agents must be covered by an Authority to Deploy Protection Agents issued by the Chief PNP (valid for one year) or the TDO (The Director for Operations) which is valid for up to six months and SDDO issued by CSG - SOSIA," Azurin said.
He said the SOSIA, in coordination with police districts in the National Capital Region and other police regional offices where there are known POGO operations, is also directed to inspect all private security personnel in these establishments, including watchmen, security guards, and protective agents.
The move came following a viral video showing a shooting and stabbing involving two groups of Chinese nationals backed by Filipino bodyguards at an apartment building in Marina Bay, Barangay Don Galo, Parañaque City last July 22.
"The appropriate complaint against the suspects was already referred to the proper authority and with the identification of the majority of them, this case is considered as cleared," National Capital Region Police Office (NCRPO) chief Brig. Gen. Jonnel Estomo said in a statement.
Based on the report, Estomo said a pursuit operation was conducted through the help of a closed circuit television (CCTV) camera recording of the building that led to the identification of the perpetrators of the crime.
Two of the suspects were identified as a certain King Aglubos Lee and Jeffrey Orlanes.
Meanwhile, those killed were identified as Chinese nationals Zhang Xialong and Ziyu Meng.
Police also disclosed that three Filipino witnesses who are working as housekeeping personnel at the building were invited for investigation.
The witnesses identified through CCTV footage the 13 Filipino suspects composed of a businesswoman and 12 personal bodyguards who were temporarily staying at the same apartment. (with Priam Nepomuceno/PNA)