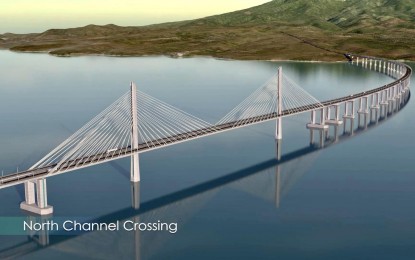 MANILA – The Department of Public Works and Highways (DPWH) is finalizing the detailed engineering design works for the Bataan-Cavite Interlink Bridge that will connect the provinces by the first quarter of 2023.
Senior Undersecretary Emil Sadain said in a news release on Saturday that the marine geophysical surveys and geotechnical investigations in evaluating underground conditions and site characterization over the waters of Manila Bay are ongoing with an overall accomplishment of 55 percent to date.
The inspection report to Secretary Manuel Bonoan said the geological aspects of the site, surface and subsurface, have to be studied in detail before the start of construction activities.
The feasibility studies of the 32-kilometer project were started and completed under the Duterte administration.
Sadain, Bataan Governor Jose Enrique Garcia III, Bataan 3rd District Rep. Maria Angela Garcia, Mariveles Mayor Ace Jello Concepcion, and other DPWH officials, aboard deepwater vessel Trinity Surveyor, witnessed the actual operations of geotechnical investigation survey on the waters of Bataan on Friday.
Upon completion, the four-lane permanent linkage between Bataan and Cavite will cut travel time from five hours to just 20 to 30 minutes, according to DPWH.
The project includes the construction of two cable-stayed navigation bridges on either side of historic Corregidor Island.
Called the North Channel Bridge and South Channel Bridge, the structures will have main spans of 400 meters and 900 meters, respectively.
Alignment in Bataan is between Roman Highway and traverses the barren land area in Barangay Alas-Asin, and then skirts to the shoreline of Barangay Mountain View in Mariveles.
In Cavite, the alignment will start from the shoreline of Barangay Timalan Balsahan in Naic, traverses through the agricultural and residential area, and terminating on Antero Soriano Highway, which is in a relative flat terrain in Barangay Timalan Balsahan and Barangay Timalan in Concepcion. (With a report from Ferdinand Patinio/PNA)