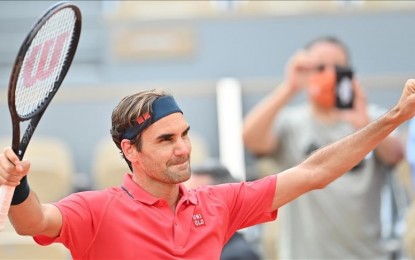 ANKARA – Roger Federer bade a tearful farewell Friday, although marred by a doubles loss for Team Europe in the Laver Cup at O2 Arena in London.
The "Swiss Maestro" and archrival, Spanish Rafael Nadal, were defeated by Team World's American duo of Jack Sock and Frances Tiafoe, 6-4, 6-7(2-7), 9-11 in the day's fourth and last match.
At one point in the match, the Swiss legend gave fans a bizarre but memorable moment as he made a shot that passed through the net and landed in.
Fans applauded as it was a rare occasion to see on a tennis court, despite his team losing the point.
Federer, 41, could not hold back tears at the final of his professional career, witnessed by his wife and their four children, parents, and former coaches.
The Swiss icon, who has 20 Grand Slam singles titles through his decorated career, also holds the record for the most Wimbledon titles, with eight championships.
Casper Ruud and Stefano Tsitsipas of Team Europe won the first two singles matches over Jack Sock and Diego Schwartzman, respectively, while Alex de Minaur secured Team World's first point with a three-set win over Andy Murray. (Anadolu)