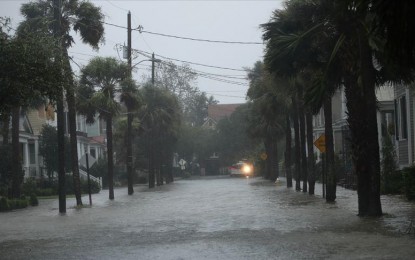 WASHINGTON – Hurricane Ian made its second landfall as it lashed into the South Carolina coast as a powerful Category 1 storm on Friday after leaving much of Florida asunder, and re-energizing in the Atlantic Ocean.
"Ian" is packing maximum sustained winds of 85 mph (137 kph), and authorities are warning that in addition to its "damaging" gales it is likely to bring "life-threatening" storm surge, and flash flooding.
It made landfall at roughly 2:05 p.m. local time (1805 GMT) near the city of Georgetown, according to the National Hurricane Center (NHC).
Storm surge warnings have been issued along the coasts of both Carolinas, and authorities had urged residents to rapidly complete any storm preparations as "Ian" approached.
The storm already tore through the US state of Florida, bringing widespread devastation to much of the southwestern coast, and the NHC warned that it would continue to result in "major-to-record" river flooding across parts of Central Florida through the week.
"Considerable flooding" is expected to take place in coastal and northeast South Carolina, coastal North Carolina, and southeast Virginia.
At least 21 people were confirmed dead early Friday in Florida, and officials have warned that they expect the number to rise drastically.
Officials said a man died after he fell in his home and was not able to escape the rising floodwaters.
Another man died while trying to drain his pool.
Several vehicle deaths were also reported throughout the state.
"People die in disasters that have nothing to do with a disaster," said Florida Division of Emergency Management Director Kevin Guthrie at a news conference. "The medical examiner is the one... to determine when they investigate that this is either disaster-related or not disaster-related. If it is determined to be disaster-related... it is a direct death. In other words, storm surge, rising water, things of that nature, or indirect, the stuff that led up to it after the fact."
Governor Ron DeSantis said emergency responders have rescued more than 700 people stranded by catastrophic floodwaters.
Thousands more are waiting for help.
Nearly two million households are still without power and early damage estimates in Florida are estimated between USD25 billion and USD45 billion with that number expected to rise as the damage is properly assessed in the days and weeks to come. (Anadolu)