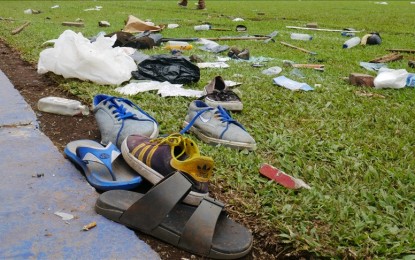 ISTANBUL – Indonesian officials have revised the total number of deaths to 125, caused by a stampede and riots during a football game over the weekend.
Indonesian police chief General Listyo Sigit Prabowo said in a statement that after coordination with the district and city health offices, "the number of victims who died as a result of this incident now stands at 125."
After supporters of the losing home team stormed the pitch in the Kanjuruhan football stadium, Malang, in East Java province on late Saturday, officers fired tear gas to disperse them, triggering the stampede and cases of suffocation. The injured were treated in around eight health facilities.
According to police estimates, around 40,000 spectators attended the game, with 3,000 of them rushing into the stadium.
Sigit also addressed a news conference on Sunday night at the stadium.
Earlier, two different death tolls were put at 129 and 174. Around 180 were injured.
Officials said in some cases, the names of victims were registered twice.
The Indonesian government has ordered a probe into one of the worst tragedies that have struck the football world.
Sigit said police will "thoroughly investigate" the incident.
A video shared on social media showed fans, dressed in red and blue, storming the pitch after Arema FC lost 3-2 to Persebaya Surabaya and clashing with security forces, who appeared to be wearing riot gear.
Sports Minister Zainudin Amali said authorities would reevaluate safety at football matches and consider not allowing spectators at matches after the stampede.
The Indonesian Football Association (PSSI) has suspended next week's matches because of the tragedy and banned Arema FC from hosting matches for the rest of the season. (Anadolu)