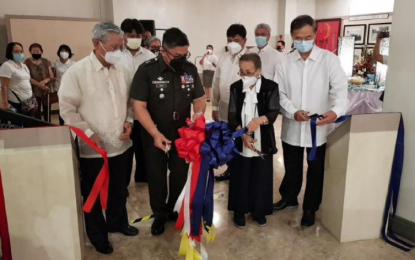 MANILA – The Armed Forces of the Philippines (AFP) paid a glowing tribute to the late former President Fidel V. Ramos with the launch of an exhibit highlighting his great and exemplary contributions to the country as a soldier and a leader for over five decades.
The exhibit dubbed as "To him that more than meets the eye," referring to Ramos, popularly known by his name initials FVR.
Ramos' wife, former First Lady Amelia Ramos, graced the occasion at the AFP Museum in Camp Aguinaldo, Quezon City on Wednesday.
In her brief remarks, Mrs. Ramos cited the exceptional service and leadership of her husband as a soldier, defense secretary and as president from 1992 to 1996.
Guest of honor, AFP chief of staff Lt. Gen. Bartolome Bacarro, who could not attend because of previous engagement, was represented by Maj. Gen. Gabriel Viray, AFP deputy chief of staff for Civil Military Operations (J7).
The exhibit includes photos and memorabilia of the former president's various assignments as a soldier here and abroad, including his memorable combat experience during the Korean War and his peacekeeping mission as operations officer of the Philippine Civic Action Group to Vietnam (PHILCAG-1) during the Vietnam War.
Beth Dapiton, AFP Museum administrative officer, said the exhibit is open to the public.
She said the AFP Museum is participating in the National Commission for Culture and the Arts celebration, and Galleries Month this October with a special tribute to the former president.
Among those who attended the event were former Defense Secretary Eduardo Ermita, former Defense Undersecretary Ernesto Carolina, former Lt. Gen. Raul Urgello, and former Marine Col. Ariel Quirubin, among others. (PNA)