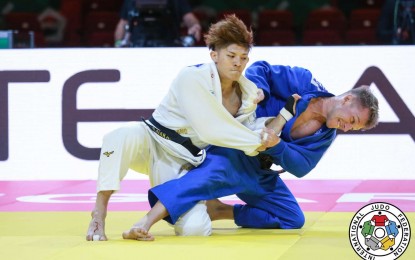 MANILA – Filipino-Japanese Shugen Nakano hopes to keep his winning form when he competes at the Abu Dhabi Grand Slam judo tournament on Oct. 21-23 in the United Arab Emirates.
The two-time Southeast Asian Games gold medalist is coming off a win last month at the Tahiti Oceania Open, beating Kerin Vasapolli of French Polynesia in the men's minus 66-kilogram category.
"It was my first medal and title in the Olympic qualifying round, so I'm honestly happy!" the 25-year-old Shugen said in an online interview on Monday.
"I would like to continue this momentum and get results in the upcoming preliminary competition and connect them to Paris!" the world No. 123 said.
His twin brother, Keisei, finished third in the minus 73-kilogram category.
After the Abu Dhabi Grand Slam, the siblings will join the Perth Oceania Open in Australia (Oct. 29-30) and Baku Grand Slam in Azerbaijan (Nov. 4-6).
The Nagano brothers are setting their sights on the 2024 Paris Olympics after failing to qualify in Tokyo.
Kiyomi Watanabe, another Filipino-Japanese, qualified and became the first Filipino judoka to compete at the Tokyo Olympics. However, she lost to Cristina Cabana Perez of Spain in the first round of the women's minus 63-kilogram category.
"They need to join more tournaments and earn points to qualify for the Paris Olympics," Philippine Judo Federation (PJF) former president and current secretary general David Carter said.
The Nagano siblings and Watanabe are also scheduled to compete at the Tokyo Grand Slam in Japan (Dec. 3-4).
Shugen is the No. 2 seed behind world No. 11 Ukrainian Bogdan Iadov in the men's minus 63-kilogram category.
Keisei, ranked No. 92 in the world, is seeded third in the men's minus 73-kilogram category.
World No. 36 Nils Stump of Switzerland is the top seed followed by world No. 61 Sulaiman Hamad of Saudi Arabia.
Meanwhile, the Baku Grand Slam will be Watanabe's first tournament since recovering from a foot injury that prevented her from defending the title in the Vietnam SEA Games last May.
In the Tokyo Grand Slam, the world No. 113 Watanabe is seeded second behind world No. 70 Zulhumar Dashinova of Turkmenistan.
Her only competitions last year were the Asia-Oceania Senior Championships in Kyrgyzstan and the World Judo Championships in Hungary.
Aside from the 2024 Paris Olympics qualifiers, other tournaments lined up for the national judokas next year are the SEA Games in Cambodia (May 5-16), Asian Games in Hangzhou, China (Sept. 23-Oct. 8) and Asian Indoor and Martial Arts Games in Bangkok, Thailand (Nov. 17-26).
The Philippines won two gold medals courtesy of Shugen and Rena Furukawa (women's minus 57-kg) in the 2022 Vietnam SEA Games. (PNA)